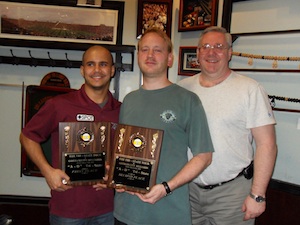 Raphael DaBreo, Michael Harrington and room co owner Kevin Buckley
Though he hasn't won a stop on the Tri-State Tour since 2009, when he did it twice, Raphael DaBreo went undefeated through a field of 49 entrants on hand for a two-day stop on the weekend of June 11-12, besting Mike Harrington twice in the process. The $2,000-added, A-D handicapped 9-Ball event was hosted by Gotham City Billiards in Brooklyn, NY.

After victories over Juan Guzman, Stewart Warnock and John Trobiano, DaBreo moved among the winners' side final four to face Tri-State veteran, Dan Cintron. Harrington, in the meantime, squared off against Antonio Navarro. DaBreo sent Cintron west 8-6, as Harrington was at work sending Navarro over 6-4. The first of the two DaBreo/Harrington matches was a double hill affair that sent Harrington to the semifinals and DaBreo in the hot seat.

Cintron moved over to the one-loss bracket and ran immediately into Billy Cheng, who was in the midst of a six-match winning streak that took him all the way to the semifinals. After being sent west by Trobiano in the third round, Cheng survived a double hill battle against Warnock, got by Ed Culhane 7-3 and picked up a forfeit victory over Alex Gilvarg, for the right to face Cintron. Navarro picked up Ron Mason, who'd gotten by Ben Castaneros 6-4 and Andrew Cleary 7-4.

Cheng defeated Cintron 7-5 and moved into the quarterfinals against Mason, who'd downed Navarro 6-4. Cheng completed his six-match streak on the one-loss side with a 7-5 victory over Mason, and though he would push Harrington to double hill in the semifinals, Cheng's run ended right there.

With visions of the 'oh, so close,' double hill hot seat match against DaBreo on his mind, Harrington turned back for a second chance against him. It went from 'oh, so close,' to 'not even close,' as DaBreo allowed Harrington only a single rack in the victory that completed his undefeated weekend.

Thanks were extended to the Buckley family for their support of the Tri-State Tour, as well as sponsors Sterling-Gaming, Ozone Billiards, Ron Tarr Cues, Phil Capelle, BlueBook Publishing, and Human Kinetics.