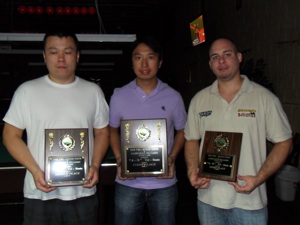 Allen Wong, Daniel Dagotdot and Dan Cintron
For the second week in a row, Daniel Dagotdot made it into the finals of a Tri-State Tour stop. On August 14, he'd been sent to the one-loss side from among the winners' side final four and came back to face
Ed Culhane
, who persevered in the finals to chalk up his first Tri-State win. A week later, on August 21, Dagotdot got moved west by
Allen Wong
in the hot seat match, but came back to defeat Wong in the finals, chalking up his first Tri-State win. The $750-added, A-D handicapped event drew 36 entrants to Sandcastle Billiards in Edison, NJ.
Dagotdot notched four wins to move among the winners' side final four, and then sent
Gary Murgia
west 7-5 to get into the hot seat match. Wong, in the meantime, faced
Richard Ng
, sending him to the one-loss side 7-5. Wong then hung on to gain the hot seat with a 7-6 win and waited for Dagotdot's return.
On the one-loss side, Murgia squared off against Tri-State veteran
Dan Cintron
, who'd given up only two racks in matches against his previous two opponents - Johnny Ortiz (0) and Rajesh Vannala (2). Ng met up with
George Osipovitch
, who'd downed
Andrew Cleary
7-2 and
Nick Verducci
7-6. Cintron got by Murgia 7-4, as Ng was busy sending Osipovitch home 6-5. In the quarterfinals that followed, Cintron prevailed over Ng 9-7, and moved into the semifinals against Dagotdot. Odds makers might well have given the edge to the veteran Cintron over Dagotdot, looking for his first-ever victory on the Tri-State tour, but they would have been wrong. Dagotdot preserved his shot at a Tri-State win with a 7-3 defeat of Cintron and faced Wong for a second time.
Wong took an early 2-0 lead in the finals, but Dagotdot fought right back to tie it at two apiece, and then go ahead himself by two at 4-2. Wong would fight back to get within one at 4-3, 5-4, 7-6, and 8-7, but would never regain the lead. Dagotdot won the 16th and final game and with only a single defeat on the day, chalked up his first Tri-State victory.
Tour representatives extended thanks to Sterling-Gaming, Ozone Billiards, Viking Cues, Ron Tarr Cues, Phil Capelle, BlueBook Publishing, and Dr. Dave Billiards Instructional Products for their sponsorship of the event and added a special thank you to "The Sandman", owner of Sandcastle Billiards for providing the players with excellent playing equipment and a great atmosphere to play in.