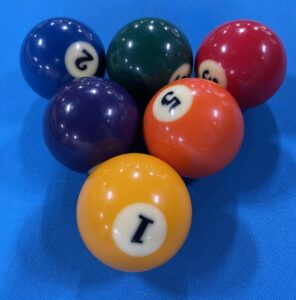 The competition is starting to heat up at the 2022 Super Billiards Expo being held at the Greater Philadelphia Convention Center in Oaks, PA. The doors opened on Monday (April 18) with TAP League's National Championships and by Tuesday, the SBE had crowned its first champion. Emerging from a field of 204 entrants, initially spread out over four single-elimination brackets, Danny Mastermaker grabbed that first title in the game format of 6-Ball, downing Fred Goodman in the finals 6-2, 6-2.
Though not by any means a new format, it made its debut here as an SBE event, playing out on Diamond 'bar box' tables. Utilizing the same rules as 9-Ball, with, as one might imagine, the 6-ball as the game's 'money' ball, it has some advantages and disadvantages over the more popular standards; 8-ball, 9-ball and 10-ball. It is, also as one might imagine, a much quicker game. Here, at the SBE, it played out in races to six, best two out of three sets for advancement. For some, it was a familiar game, while for others, like Daniel Dagotdot, who was one of the four competitors emerging from the four brackets, it was a new experience. His thoughts on the game itself highlighted aspects of the game, which are something of a good news, bad news situation.
"It is so hard to make a ball on the break," he noted of his first experience, "and if you break and don't drop a ball, 90% of the time, you lose."
It also creates a 'do or die' scenario, where if you step to the table after your opponent has broken, you better be prepared to finish the game from that point. An alternate break format softens the 'do or die' consequences somewhat, though Dagotdot made note of the same cautionary note about the nature of the game.
"Unless there's a pack somewhere," he said, "if you miss, you're done, too."
"I do like the game," he added, "and you can't ever really say you don't get a chance."
The game format appears to be attracting its share of 'side action' matchups at the SBE. Apparently, Dagotdot noted, players on the amateur end of the player spectrum like the odds better in a game that's "fast-paced, with very little safety play and (not much) strategy.
"It might develop as a format with that action angle to it," said Dagotdot. "I saw a lot of players doing that in the first two days."
Loye Bolyard, tour director of the Maryland State Championships series of events, played 6-ball growing up, but at this stage, doesn't see it showing up on his event calendar any time soon. Like Dagotdot, he noted the most obvious difference that it makes in game play.
"It's all about the break, but there's really no downside to it," he said. "The good thing is that anybody can play."
Open Amateur tournaments are underway, as are the two Pro events
The SBE's Open Amateur event, with 962 registered entrants got underway on Wednesday, sporting 16 double-elimination brackets. The TAP League National Championships concluded, while its Rally in the Valley event began. On Thursday, the two Pro events got underway; the Diamond Open 9-Ball Professional Players Championship and the WPBA 9-Ball Pro Players Championships. Today (Friday), as the Open Amateur Players championship entered its third day, the Seniors Amateur Players Championship and the Women's Amateur Player Championships got underway. 
The 74-entrant Diamond Open 9-Ball Pro event finished two rounds of play on Thursday, with a list of the 'usual suspects' advancing. The only real (apparent) surprise in the early rounds, which included a lot of opening round byes, was Earl Strickland's second round (after a bye), double-hill loss to Alan Rolon Rosado. Among those advancing to a third round today (Friday) were Darren Appleton, Mika Immonen (downing junior competitor Landon Hollingsworth), Thorsten Hohmann, Warren Kiamco, Ralf Souquet, BJ Ussery, Fedor Gorst, Jayson Shaw, Billy Thorpe, John Morra and Kristina Tkach, who was the only one who played two matches, albeit one, a forfeit win over Lukas Fracasso-Verner.
The 63-entrant WPBA 9-Ball Pro Players Championships had much fewer byes in its opening round and played a single round, followed by eight matches of a second round. Like the Open event, it featured its own set of 'usual suspects' advancing. Kelly Fisher was the only player to receive a bye and won her opener. Winning two and advancing to a third round were (among others) Kelly Fisher, Allison Fisher, Monica Webb and Kim Newsome. Playing their second round today (Friday) were (also among others) were Jennifer Baretta, Janet Atwell, Brittany Bryant, Carolyn Pao and Loree Jon Brown.
Junior players like Landon Hollingsworth, Payne McBride, Skylar Hess and Savannah Easton (among others) are competing in the Pro events and will be competing in two separate junior events (17 & Under, 12 & Under), beginning on Saturday. The winner of each division will win paid entry to Billiards Education Foundation's Junior Nationals. The top 16 in each division will qualify for the event. Each division's winner will be recognized by the BEF as the Pennsylvania Jrs. State 9-Ball Champion.