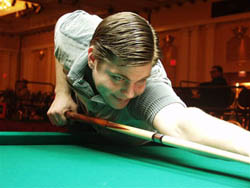 Mike Davis
As day two of the 2nd Annual Gabriel's Las Vegas 9-Ball Open winds down, Mike Davis and 'Miracle' Max Eberle are cutting a swath through the brackets.
On the top half of the brackets, Davis is undefeated after a 10-4 win over Ralf Souquet followed up by a 10-9 win over Alex Lely. Davis will next face Danny Harriman.
On the bottom hald of the brackets, Eberle has a 10-5 win over Ernesto Dominguez and a 10-6 win over Buddy Hall. Eberle will face Mike Massey next.
Dominguez caught a tough draw and went '2 and out' in the tournament. After his loss to Eberle on the A side, he fell to Santos Sambajon 10-6 on the B-Side.
Brackets are online and will be updated all week. Betonpool.com will have lines for the Thursday and Friday matches.
Photo courtesy of Diana Hoppe - Pool Pics by Hoppe