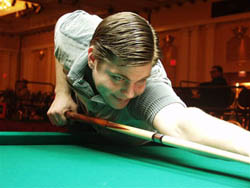 Mike Davis
A field of 77 players competed in the open division of the Falcon Cue 9-Ball Tour event at Champion Billiards Café Frederick, MD.
With both Amar Kang and Keith McCready absent for this event, the touranment was wide open. The hot-seat match came down to Mike Davis, currently ranked #3 on the tour, playing Jim Henson. Davis won a hard fought match 9-7 for the hot seat.
Henson took the trip to the one-loss side where Pooky Rasmeloungon was waiting. Pooky took complete control of the match and rolled to a 7-1 victory. This set up a final match of Davis and Rasmeloungon.
Mike Davis took the early lead 1-0, but then Rasmeloungon took control a rattled off six games for a 6-1 lead. Davis fought back and was able to tie the match at 8-8, but looked to be on his way to a second set in the double elimination finals as Rasmeloungon was running out the final rack. Pooky, however, got out of line on the seven-ball and missed a tight cut. That allowed Davis back to the table and he did not waste the chance, as he ran out the last 3 balls for the 9-8 victory.
Davis collected $1100 for first place, while Rasmeloungon settled for $700 for second. Jim Henson and Brian O'Donnell filled out the top four spots.
The ladies division drew a field of seventeen players, and fittingly enough the hot-seat match came down to Sueyen Rhee and Malea Haacke who were tied for 1st place on the points list. Rhee came out on top for the hot-seat, but Haacke beat Amanda Smith on the one-loss side to set up the rematch in the finals. The first match of the finals went to Haacke, who scored a 7-6 win. Rhee came back in the second set though, and scored the 7-1 win.
Rhee collected $325 for the win, with Haacke settling for $215. Smith and Tommie Ann Keyser filled out the top four spots.
The Falcon Cue 9-Ball Tour's next event will be at Orange Ball Billiards in Rockville, MD on June 21st - 22nd.
Photo courtesy of Diana Hoppe - Pool Pics by Hoppe