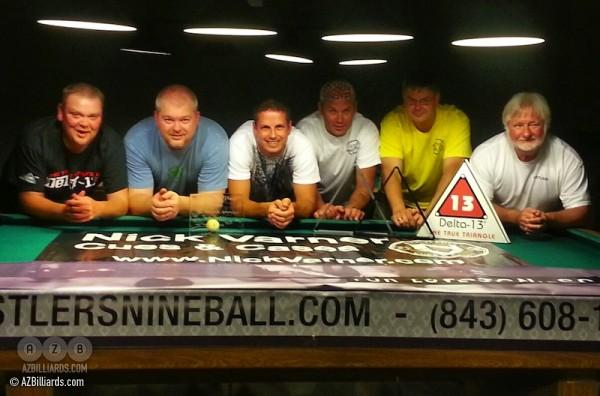 Shannon Daulton, Brian Davis, Dave Cook, David Perkins, Kevin Quinn & Del Laquiere
Brian Davis
, a B player, downed two straight A players to get into the hot seat match against another A player,
Dave Cook
, only to be turned aside during the June 22-23 stop on the Great Southern Billiard Tour. Davis, though, came back from the semifinals and double dipped Cook, claiming the $2,500-added event title that had drawn 83 entrants to Players Place Billiards in Charleston, SC.
Davis took the first of his two straight matches against A opponents among the winners' side final eight, defeating
Eddie Hudak
7-6 (A players race to 9). setting him up to face Michael Basha. Cook and
Bruce Lutrell
met in the other winners' side semifinal. Davis sent Basha west with another 7-6 victory, as Cook moved into the hot seat match with a 9-5 victory over Lutrell. Cook took the first (and last) of three versus Davis 9-5 and waited in the hot seat for him to return.
On the loss side, Lutrell picked up Hudak, who, following his defeat at the hands of Davis, took down
BJ Hucks
9-7 and
Russell Scott
9-6. Basha drew
Trent Talbert
, who'd gotten by Scooter Hias 7-3 and
Russ Padgett
double hill. Talbert eliminated Basha 7-4, and in the quarterfinals, met up with Lutrell, who'd shut out Hudak.
In a straight-up, B race to 7, Lutrell advanced to the semifinals over Talbert 7-3. In another straight-up race to 7, Davis ended Lutrell's bid 7-5, earning himself a re-match against Cook.
Davis and Cook fought to double hill in the opening set, before Davis finished it, forcing a second match. He held Cook to six racks in that second match to claim the event title.
Tour directors Shannon and Marge Daulton thanked the ownership and staff at Players Place, as well as sponsor Del Laquiere, who, as proprietor of the Hustlers Pool League, put up all of the added money.