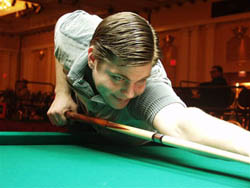 Mike Davis
The Joss North East 9-Ball Tour was in action this weekend with a field of 68 players at Renaissance Billiard Club in Quincy, MA.
With a total purse of over $11,000, the top Joss Tour regulars were joined by big guns like Mike Davis and Teddy Garrahan.
The winners side came down to Mike Davis vs Robb Saez. Saez was coming off an outstanding second place finish at the Seminole Florida Pro Tour Opener last week and Davis was coming off a third place finish at the 111 player Planet Pool Tour Stop last weekend.
The hot-seat went to Davis, who defeated Saez 9-6. Meanwhile, Carlos Vieira was eliminating last week's Joss Tour winner Santos Sambajon 9-3. Vieira may have won big against Sambajon, but he unable to score the win over Saez in the semi-final match. Saez won 9-7 to earn the rematch with Davis in the double elimination finals.
Davis had a chance to end the tournament in the first set as he was breaking at hill-hill, but a missed one ball led to a Saez safety and ball in hand for Saez. Saez ran that rack to score the 9-8 win and force a second set. The second set was almost as close, but this time it was Davis scoring the 9-7 win.
Davis earned $2500 for first place, while Saez pocketed $1900 for second. Vieira and Sambajon filled out the top four places. Other notable finishers were Julie Kelly and 16 year old Mike Dechaine who finished tied for 9th place. Kelly's fellow WPBA member Karen Corr lost to Dave Fernandez and Ryan McCreesh to finish one spot out of the money.
The Joss NE 9-Ball Tour will be at Classic Billiards in Rochester, NY on April 3rd - 4th for their next event. The added money at this event has been lowered to $2,000.
Complete Payouts:
1st Mike Davis $2500
2nd Robb Saez $1900
3rd Carlos Vieira $1400
4th Santos Sambajon $1000
5th/6th Joey Korsiak, Mike Zuglan $750
7th/8th Teddy Garrahan, Tony Ruberto $550
9th/12th Jarrod Clowery, Julie Kelly, Mike Rinella, Mike Dechaine $350
13th/16th Ryan McCreesh, Jimmy Nou, Joe Tucker, Frankie Hernandez $250

Photo courtesy of Diana Hoppe - Pool Pics by Hoppe