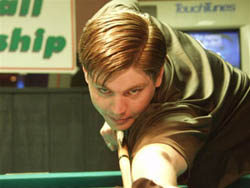 Mike Davis
The Planet Pool Tour made their way to The Playing Field in Richmond, VA this weekend with a field of 68 players in the open division.
Play on Sunday came down to showdown between the #1 and #2 ranked players on tour this year. #1 ranked Ryan McCreesh scored a 9-7 win over #2 ranked Mike Davis in that match, but McCreesh fell to #7 ranked Jerry Slivka in the match for the hot-seat.
On the one-loss side, Davis got his revenge with a 7-4 win over McCreesh. This set up the double elimination finals between Davis and Slivka. Both matches in the finals were close, but Davis scored 9-7 and 9-6 wins to earn his second Planet Pool Tour win this season.
Davis took home $1250 for first, while McCreesh Slivka pocketed $800 for second. McCreesh and last stops winner Don Steele filled out the top four spots.
The ladies division saw tour newcomer Laura Turrone make her way through 28 other players to win the event.
Turrone took the hot-seat with a 7-3 win over Jennifer Dunkin. Dunkin then lost 5-3 to #1 ranked Malea Haacke to finish in third place. Turrone then went on to keep her undefeated string alive with a 7-5 win over Haacke in the finals.
Turrone collected $420 for first, with Haacke winning $300 for second. Dunkin and Jin Hee Park filled out the top four spots.
The Planet Pool Tour will be at First Break Café in Sterling, VA on July 17th - 18th for their next stop.
Photo courtesy of Diana Hoppe - Pool Pics by Hoppe