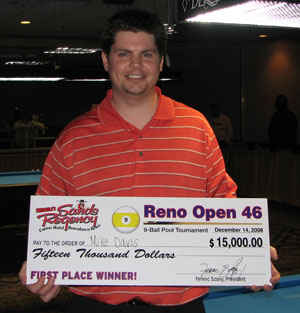 Mike Davis came back from 8-5 down to win
Mike Davis has won the 2003 Reno Open.
Davis captured the hot-seat early on Sunday with a 9-7 win over Cliff Joyner. Joyner went to the one-loss side where he fell to Santos Sambajon 9-7.
Santos had been making a habit of letting opponents back into matches towards the end of the tournament. He went up 8-5 over Johnny Archer and let Archer back to 8-7 before finishing him off. Sambajon led Joyner 7-4 and 8-5 before letting Joyner get back to 8-7.
In the final match, Davis took a 3-1 lead, but watched Sambajon come back to take a 6-3 lead. Sambajon led 7-4 and 8-5 before a missed combination in the 13th rack to let Davis back into the match. Both players had chances in the next two racks, but it was Davis winning each rack to tie the score at 8-8.
In the final rack, Davis made a ball and meticulously navigated the run-out to earn the first major title of his career.
Davis won $12,000 for first place, while Sambajon settled for $6,500 for second place. Joyner and Max Eberle filled out the top four positions.
Follow all the action with our online brackets and game by game reports from the semi-finals and finals.
Photo courtesy of Steve Lingelbach - On The Wire