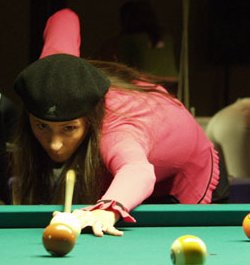 Dawn Hopkins
The McDermott New England Women's Tour held it's third event of the year, The Rhode Island State Championships, September 2-3, 2006 at The Corner Pocket Billiards in Johnston, RI. Once again tour director Bonnie Saritelli put together a well-organized and enjoyable event. The players even went out of their way to thank her for holding it. The field was quite strong, featuring WPBA pro players Dawn Hopkins and Candi Rego, as well as former tour stop winners Sharon Weis, Morgan Steinman, Erica Testa, Sherry Pouncey, Carol Clark, and Nicole Mancini. The difficulty of play was increased by the over 2.5 inch pocket slate shelves, which made it extremely difficult to pocket balls, and table to table variation in cloth speed.
Noteworthy was the performance of Catherine "Katie" Fiorilla, one of the original tour members who until now had never been a serious contender for cashing and had not even attended the past three events. She reportedly had been working on her mental game, and it paid of with a fouth place finish. Also a BIG congratulations to Melony Page and Morgan Steinman for 5/6 place finishes. Page is a new to playing at this level. She is a member of the American Poolplayers Association amatuer league and played in only one qualifying event prior to this weekend. After she calmed her nerves, she went on to finish in 5/6 place. This was quite an accomplishment for her.
After this event, it is clear that there will be a serious battle for Player of the Year. Morgan Steinman and Sharon Weis are tied for first place with Nicole Mancini and Carol Clark following closely on their heels.
Dawn Hopkins powered her way through the winners side to the hot seat match against Carol Clark. Even Hopkins was having some trouble adjusting to the different cloth speeds and on a few occasions came up short on her position. However it was not enough to stop her and after making a beautiful jump/combo/carom shot to pocket the 9 ball Hopkins sent Clark to the one-loss side 7-2 .
Kathleen Lawless, who was sent to the one-loss side by Katie Fiorilla, deafeated Morgan Steinman and then got her revenge on Fiorilla by deafeating her in the quartefinal match 7-5. Lawless went on to face Carol Clark in the semi-finals. Tension was very high in this match. Both Clark and Lawless were battling to get the pro spot for the next WPBA event, the U.S. Open 9-ball Tournament. Clark seemed a little off her usual game and Lawless stepped up hers to win the match 7-3.
Kathleen Lawless went on to face Dawn Hopkins in the finals. Hopkins was a clear favorite to win the tournament and proved why in the final match. Hopkins rarely missed and her safety play was on a different level than most of the other women in the event. Lawless hardly ever had an opportunity at the table and even when she did she was generally facing a very difficult shot. It was quite enjoyable to watch Hopkins in action. She not only played like a professional but behaved like one too. With her mother and son watching the tournament she gave the impression of being one of the nicest people you could meet. Hopkins won the match 7-3.
Because Dawn Hopkins is already a professional member of the WPBA and is therefore invited to play in all WPBA events, the spot at the next event goes to the second place finisher Kathleen Lawless. Lawless and Hopkins will be playing in the WPBA U.S. Open 9-Ball Tournament at the Sandia Casino in Albuquerque, NM on October 18-22, 2006.
Congratulations ladies and good luck. May the pool gods be with you both.
Results:
1st: Dawn Hopkins- $750.
2nd: Kathleen Lawless- $435 plus WPBA event entry.
3rd: Carol Clark- $285.
4th: Katie Fiorilla- $150.
5th/6th Melony Page and Morgan Steinman- $50.
Thank you "McDermott Handcrafted Cue's" for your continued support of Women's billiards and the New England Women's Tour. Since 1975, McDermott Handcrafted Cues has consistently raised the performance standards for what billiard players expect from a high performance cue. McDermott builds billiard equipment for people who view playing pool as an end in itself, drawing on cutting-edge technology and tasteful yet aggressive design. McDermott equipment is rooted in performance, using the latest technology in a state-of-the-art facility and utilizing the finest materials available. For further information about McDermott Handcrafted Cues, please visit our website at www.mcdermottcue.com.
File photo courtesy of Roberta Case