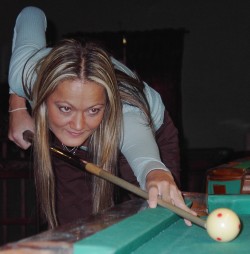 Debbie Schjodt
The Ladies Spirit Tour stopped into Hollywood Billiards in Hollywood, Florida the weekend of October 13th and 14th. This $1000 added WPBA qualifier event brought about thirty-four players and amongst them many new faces to compete for the opportunity to participate in the first WPBA event of the 2008 season.

As always, the field proved to be quite a competitive bunch of ladies, but newcomer Mirjana Grujicic ended up shaking up the event as she rose to the final three remaining. In the semi-finals, Grujicic managed to stop Nicole Rasmussen by a close score of 7-5, which then sealed her fate in the final round. There, Grujicic would meet tour regular, Debbie Schjodt.

In the final round, Schjodt started off a bit rocky as she fell in the first couple of games, but was able to regain control of the match and ended with a final score of 7-3.

In addition to the tournament victory, Schjodt will end the 2007 season as the highest point finisher allowing her to continue her quest of play in the WPBA stops throughout the 2008 season.

Special thanks to all of the sponsors that have consistently supported the tour, including, Olhausen, McDermott Handcrafted Cues, Tiger Products, Iwan Simonis, Aramis, Billiard Sanctuary, Sterling Gaming, Tweeten Fiber Company, AZBilliards.com, The Cue Cube Corporation, Sir Joseph, Slayer Technologies, Strok-in Style, Pool & Billiard, Billiards Digest, and Stroke-It Wear.

In addition to these great sponsors, we would like to thank the owner of Hollywood Billiards, Margie Soash, for not only providing a great atmosphere for play this weekend, but for joining in all the fun as a tournament participant; and to Heather Barkley and Roberta Case for their continued efforts to continually promote the sport.

The next tour stop will be the grand finale of the season at Capone's Billiards in Springhill, Florida the weekend of November 3rd and 4th - this is an invitational, non-point accrual event.