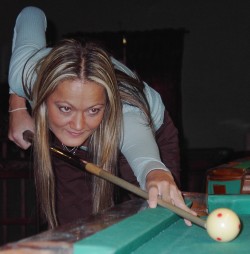 Debbie Schjodt
Debbie Schjodt held off a determined Tracie Hines to complete an undefeated run through the field at the Ladies Spirit Tour Stop at Jumpshot Billiards in Del Ray Beach, Florida this weekend.
Schjodt cruised through Saturday matches with wins over Emily Wilmoth, Ming Ng and Vanessa Seaver. Sunday play started with Schjodt beating current points leader Tracie Hines 7-5 to move into the quarterfinals where she would face Canadian Veronique Menard for the hot-seat.
Menard, who has been absent from the regional tour scene for quite some time, had been cruising along with without letting an opponent win more than 5 games against her. That was until she faced Schjodt who scored a convincing 7-2 win to take the hot-seat.
Things turned from bad to worse for Menard who then lost to Hines 7-3 on the one loss side and had to settle for third place.
The finals would be true double elimination with Hines having to beat Schjodt twice to earn the tournament win. Schjodt knew she already had the qualifier for the WPBA Florida Classic won due to Hines current touring pro status. But the qualifier was only part of what Schjodt was looking for.
Hines took charge of the match early and got to the hill first at 6-5. A missed 7-ball by Hines led to Schjodt pulling back within one at 6-5. Hines missed an 8-ball in the next game and Schjodt evened the match at 6-6. Hines' late match errors were not through though, as she missed a 7-ball in the case game and Schjodt ran the final three balls for the match win and her first Ladies Spirit Tour win since 2004.
Schjodt earned $750 for first place, while Hines settled for $525 and her third straight runner-up finish. Menard and Xiaoting Pan filled out the top four spots.
Complete Results:
1st Debbie Schjodt $750
2nd Tracie Hines $525
3rd Veronique Menard $375
4th Xiaoting Pan $250
5th/6th Stephanie Mitchell, Jeannie Seaver $150
7th/8th Jessica Barnes, Laura Lindauer $100
9th/12th Bonnie Coats, Vanessa Seaver, Kelly Coyle, Crystal McCormick $50

Photo courtesy of Roberta Case