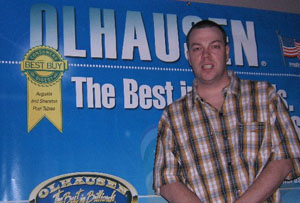 Scott Frost
Two months ago, the story on the Olhausen Billiards Desert All Around Tour was the three way fight for 1st place on the Poker Pool Points List. Things have certainly changed over the last two events though as it has started to get a little chilly in the winners circle. You could almost say it is 'freezing'.
After Scott Frost's win at Metro Sportz Bar in August, fans were wondering just what The Freezer was capable of accomplishing if he devoted the time to play on the tour. Those fans would get their answer in September as Frost was once again in the field at On The Snap Billiards in Prescott. Joining Frost on the favorite's list was current points list leader Doug Hale, #2 Glenn Bond and former All Around Champion Tony Confalone.
The first two rounds of play went as expected with Confalone, Bond, Frost and Hale all remaining undefeated. In the third round, Bond faced off against Frost and scored the hill-hill win. Meanwhile, Doug Hale defeated Ed Scott and Tony Confalone fell to Dan Allen.
Dan Allen opened up quite a few eyes with his great play at Metro in August and he followed that up with another outstanding tournament in Prescott. After defeating Confalone in the third round, Allen went on to send Bond to the one loss side in the 4th round. At the same time Bond was sent to the wrong side of the board, points leader Doug Hale was being sent in the same direction after a loss to Eddie Uber.
Uber has played in a number of Olhausen All Around Tour events but it appears as if the fans had yet to see his A game. He definitely brought it with him to Prescott as he went on to take the hot-seat with a 7-5 win over Dan Allen. On the one loss side, players were sweating each match trying to earn as many points as possible. Scott Frost eliminated Doug Hale and sent Hale home with a 5th place finish and 80 points. Hale was joined in 5th place by home town favorite Eric Olson after Olson lost to Bond.
Bond was next to fall as Frost got his revenge after losing to Bond earlier in the event. The loss to Frost sent Bond home in 4th place with 100 points. That tightened up the race at the top of the points list even more. Frost wasn't done, as he went on to eliminated Dan Allen in the semi-finals. Allen earned a very respectable 3rd place finish.
The finals got underway between Uber and Frost and Uber didn't seem too impressed with the Freezer early on. Uber took a quick lead out of the gate and looked like he was on his way to his first All Around Tour Win. Then, at 5-3 Uber, the same thing happened to Uber that has happened to many players when they face Frost. Frost caught a gear and the next thing Uber knew, it was 10-6 Frost and the Freezer was accepting the cash for first place.
With his 4th place finish, Glenn Bond has moved to within 60 points of Doug Hale on the points list. 3rd place Jimmy Mendoza missed the Prescott event (supposedly snorkeling in Hawaii is more important than pool) and he falls to 160 points off Doug Hale's pace. Gus Briseno is a distant fourth place, 285 points back and coming on strong in fifth place is Scott Frost, 320 points back. With only 3 events left, it is questionable whether anyone could make up 320 points in such a short amount of time. But we all know that if anyone in the state is capable of such a feat, it is The Freezer.
Complete Results:
1st Scott Frost $1555
2nd Eddie Uber $775
3rd Dan Allen $350
4th Glenn Bond $315
5th/6th Doug Hale,Eric Olson $125
7th/8th Tyler Fleishman, Ed Scott $75