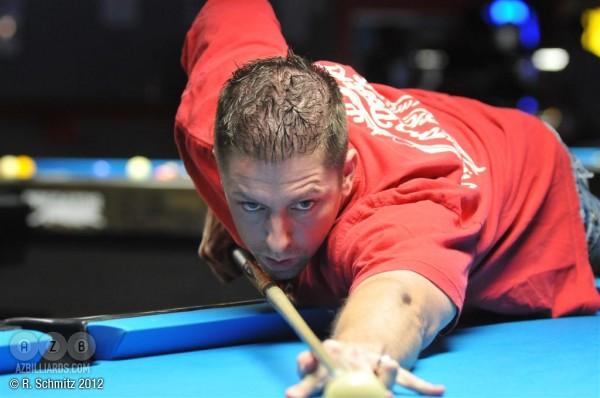 Dennis Orender (Photo courtesy of Rick Schmitz)
On paper, the Desert Classic Tour's season finale final match looked pretty lopsided. Dennis Orender (who had not won an event since 2009) was facing Bobby Emmons (who had already won two tours tops this year). Dennis had to beat Bobby twice and was already trailing the first set of the finals 4-0. But there is a reason that matches aren't played on paper, and Dennis would be more than happy to point that reason out to anyone watching the match.
The field of 35 players in the event would be another strong one, with such notables as Scott Frost (putting his tournament winning streak on the line), Bobby Emmons, Gus Briseno, Mitch Ellerman, Chris Paradowski, Rudy Alameda, Mike Sandoval, Brett Huth, Chuck Evans, Carlos Avalos (sporting a new 9 rating), Nick De Leon and Paul Grande.
Frost would see his winning streak in danger early, as he lost to Paul Grande 8-7 on Friday. Other Friday upsets saw De Leon drop a match to Ken Gouso and Chuck Evans losing to Robin Clark.
The one loss side would turn out to be a dangerous place to be on Saturday with Briseno dropping matches to Ellerman and Orender to finish out of the money. Chuck Evans would be eliminated on Saturday by Doc Rice.
Sunday matches brought back eight players. Winners side matches saw Jim Hendrickson defeat Paul Grande and Bobby Emmons send Mitch Ellerman to the one loss side. Bobby then went on to defeat Hendrickson to take the hot-seat.
On the one loss side, Frost still had hopes of winning this event. He had put together a five match winning streak on the left side of the board, that included wins over Sammy Martinez, Jude Espinoza, Susan Williams, Eric Young and Carlos Avalos. Frost kept that streak alive on Sunday with a win over Jose Gonzalez.
Meanwhile, Orender was recovering from a loss to Carlos Avalos with wins over George Teyechea and Will Sexton. Orender then sent Ken Gouso home in 7th place.
Next up for Frost and Orender were Mitch Ellerman and Paul Grande, fresh from their winners side losses.
Scott and Dennis would be up to their individual tasks with Frost eliminating Ellerman and Orender beating Paul Grande.
Frost and Orender then faced off for the right to play Jim Hendrickson in the semi-finals. This match looked to be over as Scott led the match 8-4, needing one game before Dennis could win four. Dennis won the next game and then took control of the match to win the next three games for the 8-8 win, ending Frost's undefeated tournament run at fifteen tournaments.
Dennis would then eliminate Jim Hendrickson 8-5 to set up the match with Bobby in the finals.
These two players had played in the finals of the 2010 season finale with Bobby double dipping Orender to win the event. Dennis would have his hands full trying to return the favor this year. Bobby raced out to a 4-0 lead and looked like he might have taken his foot off the gas as Orender won three games to get back within one at 4-3. Orender would tie the match at 5-5 and take his first lead at 6-5. The score was tied again at 6-6 before Orender won the next two games for an 8-6 win in the first set.
The second set stayed close early on with the score tied at 1-1, 2-2, 3-3 and 4-4. From there, Orender won three games for a 7-4 lead. Bobby would get back within one rack at 7-6 before Orender put the match away 8-6.
The Desert Classic Tour will kick off their 2013 season at Skip & Jan's on January 5th and 6th with a bartable 9-Ball event.