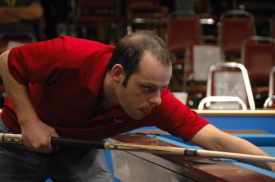 Darren Appleton
The final day of the 14th Annual Derby City Classic got underway with twenty one players still alive in the 9-ball division and a real scheduling nightmare.
The 14.1 Challenge finals between
Darren Appleton
and
Ralf Souquet
are still to be played, and the Fatboy 10-Ball Finals between
Francisco Bustamante
and
Stevie Moore
are also to be played. Unfortunately for tournament staff, all four of these players are still playing in the 9-ball division. WIth this dilemma, we don't know when the finals of the two events will take place.