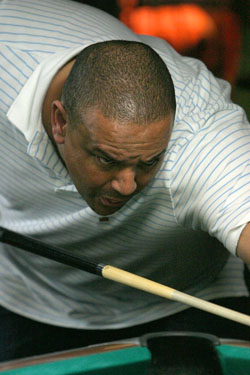 Last year's winner Billy Palmer
Online Registration is now available for the 3rd Annual Desert Dust Off via the AZBilliards.com Marketplace. The tournament is scheduled February 22-24, 2008 and is being held at Alexanders Sports Bar in Phoenix, Arizona.

The three-day $5000 Added event is a double elimination 10-Ball Tournment to be played on 7' Diamond Tables. The field is limited to 96 and is expected to be full as it was the previous two years. To register online click here.

For more information you can contact Chuck Bobbitt of Poolplayers Promotions at vi@azwest.net.