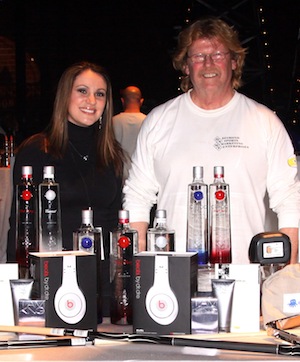 Cristina De La Garza and Ed Hagan
DALLAS, TX (February 16, 2010) – Basketball was not the only sport NBA players enjoyed during the 2010 All Star weekend in Dallas, Texas. The 5th Annual Zo & Magic 8-Ball Challenge Pool Tournament drew celebrities, athletes and entertainers to Centennial Hall @ Fair Park in over 8-inches of snow for the 32 team event.
Hosted by Earvin "Magic" Johnson and Alonzo Mourning and co-hosted by All Star Dwyane Wade of the Miami Heat, Zo & Magic's 8-Ball Challenge was a single-elimination tournament fundraiser benefitting charities supported by Alonzo Mourning Charities, Inc., the Magic Johnson Foundation and the Tom Joyner Foundation.
Teams competing in this event consisted of celebrities and athletes including Terrell Owens, Vivica A. Fox, NFL Hall of Famer Emmitt Smith, Nancy Lieberman (WNBA), Martellus Bennett (Dallas Cowboys) and NBA stars Paul Pierce (Boston Celtics), Michael Beasley (Miami Heat) and Stephen Curry (Golden State Warriors).
Past champions, Alonzo Mourning and his partner, famed painter Alonzo Adams, returned to defend their titles in hopes of being crowned champions for the 3rd time. Mourning and Adams seemed to be in stride for another victory as they fought their way to the finals once again. The team representing Diamond Billiards Products, consisting of WPBA player Cristina De La Garza and Ed Hagan of Indiana, would be the only team to stand in their way. De La Garza and Hagan began their road to the finals with a win over Magic Johnson's team in the first round followed by many other teams including Allan Houston's team in the semi-finals.
Adams, a former APA player in the L.A. area, demonstrated his 8-ball knowledge as he coached Mourning through several difficult layouts but ultimately, they fell short of a victory in the finals and would have to settle for second place. De La Garza and Hagan captured the title of 8-Ball Challenge Champions and the grand prize gift package worth more than $10,000. The gift package consisted of prizes donated by sponsors including Predator Cues, Delta-13 Rack, Rafaello Jewelers, Best Buy, ESPN, Tiffany & Co. and Ciroc Vodka.
Over the years, the 8-Ball Challenge has raised over $750,000 for charity. Zo & Magic's 8-Ball Challenge recognizes Hosting Sponsor Ford Motor Company, Alonzo Mourning Charities Corporate Sponsors Carnival andPublix, Sponsoring Partners Ciroc Ultra Premium Vodka, Diamond Billiard Products, ESPN and GenerationPOOL.com, and Participating Team Sponsors Aetna, Best Buy, Brand Jordan, Converse, Dallas Dynasty, Louis Vuitton and Tom Joyner Foundation. For more information about Zo & Magic's 8-Ball Challenge visit www.8ballchallenge.com or contact Jacinda Chen of W&W Public Relations, Inc. at jacinda@w-wpr.com.
WPBA Professional, Cristina De La Garza, is sponsored by Poison Cues, Cue It Up! Cue holders by BilliardBush.com and A-Tex Family Fun Center. For more information about Cristina De La Garza visit cristinadlg.blogspot.com or www.wpba.com.