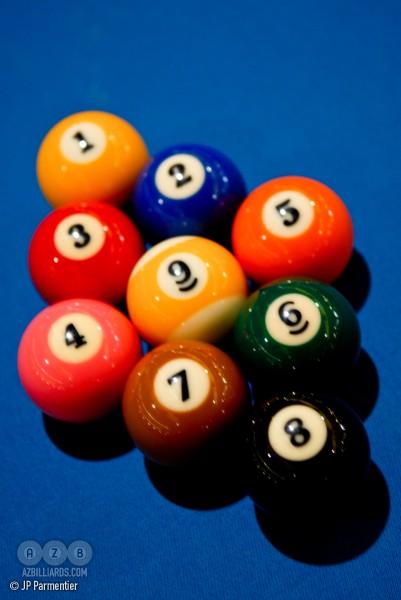 New venue, new winner on the tour.
In the early hours of Sunday, August 14, Chad Dill, occupying the hot seat at the time, entered the second set of a double elimination final against 16-year-old Hunter Zayas on the Viking Cues' Q City 9-Ball Tour. Dill fought Zayas in the second set, battling him to a double-hill, final game, which he won to claim his first Q City 9-Ball Tour title and enter the AZBilliards database of players for the first time. The $250-added event drew 28 entrants to the new venue, Action Billiards in Inman, SC.
Dill and Zayas were among the winners' side final four, but did not face each other. Dill faced Jason Blackwell in one of the winners' side semifinals, while Zayas met Dalton Messer in the other. Dill got into the hot seat match with a double hill win over Blackwell, and was joined by Messer, who'd sent Zayas over 6-3. Dill sent Messer off to the semifinals 5-3 and claimed the hot seat.
On the loss side, Zayas and Blackwell, got 'right back onto their horses' with victories. Zayas picked up Cameron Hollingsworth, who'd defeated Terry Cannon 5-3, and his older brother, Landon Hollingsworth 5-5 (Landon racing to 9) to reach him. Blackwell drew Marc Rochester, who'd recently eliminated Cory Edwards with a shutout and Katie Bischoff 6-2.
Zayas downed Cameron Hollingsworth 6-3. Blackwell joined him in the quarterfinals, after ending Rochester's day 6-4. Zayas then took out both Blackwell in the quarterfinals and Messer in the semifinals 6-3.
Entering the finals, as Saturday turned into Sunday, Zayas was looking for his first recorded cash payout in 2022 and his first win on the tour since February, 2021. Hot seat occupant Dill was also looking for his first 2022 cash payout, his first ever, along with his first win on any tour, anywhere. Zayas had the 'experience' upper hand in the double elimination final and took the opening set 6-3. But Dill came back in the second set to knot the proceedings at double hill; 4-5 (Zayas racing to 6). Dill won the 10th and final game to claim his first title.
Tour director Herman Parker thanked the ownership and staff of the tour's newest venue, Action Billiards, as well as title sponsor Viking Cues, Breaktime Billiards (Winston-Salem, NC), BarPoolTables.net, Dirty South Grind Apparel Co., Realty One Group Results, Diamond Brat, AZBilliards.com, Ridge Back Rails, and Federal Savings Bank Mortgage Division. The Viking Cues' Q City 9-Ball Tour will be off this week and be back at the tables on the weekend of August 27-28 at Janet Atwell's room, Borderline Billiards in Bristol, TN.