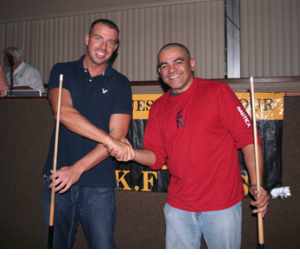 Donnie Mills and Julio Aquino
The $1000 Added Open Event would kick of with very strong 23-man field at Hammerheads Billiards Lounge in Holiday, FL on Dec. 13th. With names Like Donnie Mills, Tony Crosby, Mark Coats, James Roberts, Josh Lewis, and Julio Aquino, no one was in for an easy ride.

The man to beat on this day was Donnie Mills. He breezed through the winner side bracket with wins over Mike Rodriguez 9-4, Nick Prouty 9-0, Dave Ross 9-0, and Julio Aquino 9-4 to put himself in the hotseat match, where he would face tour newcomer Mark Coats. Coats was looking good on the winners side with impressive wins over Louie Smith 9-1, Taz Naravane 9-3, and a hard fought win over Tony Crosby 9-8.

The hotseat match was dominated by Mills, who ran out a 9-3 winner.

On the one loss side Julio Aquino, who has been proving all year why he is a little too good for the Amateur events, was making his mark with some very strong wins over Adam Wheeler 9-7, Josh Lewis (who had just Knocked Tony Crosby out) 9-3, finishing with a very impressive win over Coats 9-7, to put him in his 2nd final of the year.

The final match on the day would be no different than any other for Mills, as he would come out with a dominating 11-5 win over Aquino, who would have to settle for a runner up position for the 2nd time this year. On the bright side, Aquino's 2nd place finish places him in the No. 1 position on the KF Open Rankings, with Mills moving to the No 2 spot.

The KF cue tour would like to thank all our sponsors for making these events happen, and Hammerheads Billiards Lounge for hosting another great event.