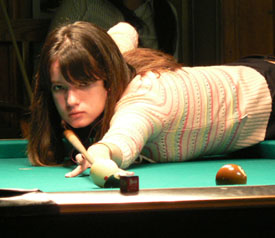 Liz Lovely (File Photo)
Day two saw a lot of action in Managua as tournament organizer Carlos Rivera and his entire crew from Pool Ocho have done a magnificent job of producing this year's event. We are down to the final four in both divisions and we are not without surprises.

There will be no repeat champions. Defending Champ Brittany Bryant (CAN) has been eliminated from the field after being knocked over to the long road by Keng-Chun Lin (TPE). Once on the desperate side Ms. Bryant found herself defenseless against the powerful onslaught hurled upon her by Konishi Samia (JPN) and fell out of the tournament 7-2.

This leaves two young ladies who still have not bitten into the bitter taste of a loss. Keng-Shun Lin has now bested Ms. Bryant, Kamlia Khdjeva (BEL) and Brianna Miller (USA) to stand on the edge of the hill alongside Liz Lovely (USA). Ms. Lovely achieved her goals thus far by defeating Anja Wagner (GER), Konishi Samia (JPN) and Ana F. Guevara (NIC).

The two ladies who are on the one-loss side and can bear no more defeats are Konishi Samia (JPN) and Anja Wagner (GER). As mentioned, both ladies find themselves in peril as a result of a loss to Liz Lovely (USA).

There are also two unstained players left among the young men. Rusian Chinakhov (RUS) has thus far found no opponent who can answer his stroke. He has disappointed Phil Burford (GBR), Marcos Garcia (NIC), Cristopher Tevez (PER) and Ryner Monje (CRC). Next he will face Stefan Nolle (GER). Mr. Nolle has found his success by defeating Kuei-Min Lin (TPE), Maximillian Lechner (AUT), Jorge Rivera (NIC) and Luis Arias (PER). Chinakhov and Nolle will soon face one another to claim the hot seat.

Still in the running but with the hound at their heels on the one-loss side are Phil Burford (GBR) and Kuei-Min Lin (TPE). Their match today has everything to offer or suffer as 9-Ball has that cruel habit of rewarding the aggressive but punishing the foolhardy. A delicate balance at best.