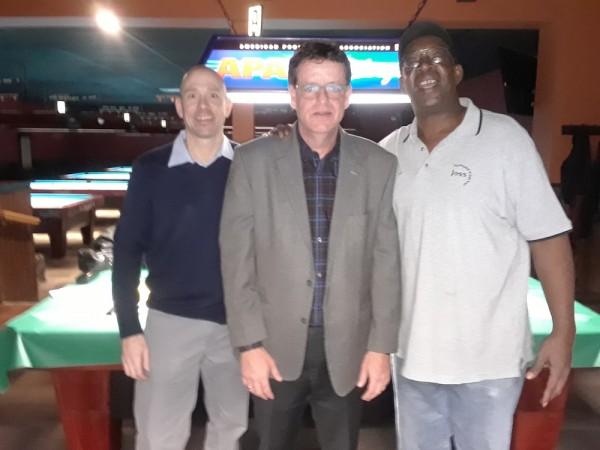 Matt Tetreault, Brick House Billiards Owner Brian Holmes and Dwight Dixon
The Joss NE 9-Ball Tour kicked off the second half of their 2017-2018 season on January 13th - 14th with a field of 30 players at Brick House Billiards in Syracuse, NY, where
Dwight Dixon
earned his first tour win.
Although Dixon went undefeated to win the event, he didn't have it easy. His first four matches (
Nick Coppola
,
Dave Sunday
,
Bucky Souvanthong
and
Bruce Carroll
) were won by progressively smaller margins each match, starting with a 9-5 win over Coppola and ending with a 9-8 win over Carroll. Dixon had a little more breathing room in the hot-seat match, where he defeated
Bruce Nagle
9-7.
Nagle had defeated
Matt Tetreault
9-7 in the final eight on the winner's side, but Tetreault rode the left side of the board through four match wins and then made it five with a hill-hill win over Nagle.
With Nagle's winning streak through the left side of the board, and the narrow margins of Dixon's wins, fans in attendance were expecting a close match in the finals. Dixon would have none of that though, and trounced Tetreault 9-3 in the first and only set of the finals.
Sunday's second chance tournament was
James Chemaly
run through a field of 12 players undefeated for first place. Chemaly beat
Willie Oney
3-0 for the hot-seat and then beat Oney again 3-2 in the first set of the finals.
The next stop on the Joss NE 9-Ball Tour will be February 17th - 18th at the NE 9-Ball Open XXX at Sharpshooters in Amsterdam, NY. That event will be another $1500 added main event with a $500 added second chance tournament on Sunday.
Tour director
Mike Zuglan
is already taking signup for the Turning Stone Classic XXX, to be held August 23rd - 26th at the Turning Stone Resort and Casino in Verona, NY. Players are urged to get their entry fees to Zuglan as soon as possible, to avoid being shut-out.