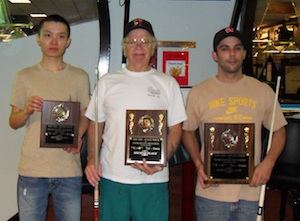 Nicholas Chan, Ken DeCuire and Jason Egeln
It looked for a while as though father and son, John and Jason Egeln, were going to meet in the finals of the Tri-State Tour stop on Saturday, August 28. That possibility ended when father John's trip to that matchup ended in the quarterfinals. Son Jason went on to finish undefeated in the $750-added event that drew 25 entrants to Gotham City Billiards in Brooklyn, NY.
With victories over King Victoree, Tran Tran and Pat Mareno, Jason moved among the winners' side final four to meet
Ryan McCarthy
, with whom he had shared a first place, Tri-State finish in April.
Ken Decuire
, in the meantime, met up with
Andrew Cleary
. Egeln got into the hot seat match with a 7-4 victory over McCarthy, as Decuire defeated Cleary 7-3. In their first of two matchups, Egeln sent Decuire to the semifinals and waited in the hot seat for his return.
On the one-loss side,
John Egeln
, following victories over
Antonio Navarro
7-5 and Joe Diamond 6-1, met up with McCarthy. Waiting for Cleary, was
Nicholas Chan
, who was in the midst of a seven-match winning streak that would propel him into the semifinals. Chan had defeated Pat Mareno 7-5 and William Zarzour 6-4 to reach Cleary. The elder Egeln dropped McCarthy into the tie for fifth place 6-2, as Chan was busy defeating Cleary 7-6. In what would prove to be his last win of the day, Chan defeated Egeln 6-2 to move into the semifinals.
Decuire prevailed in those semifinals 6-2 and got his second chance at the younger Egeln. Egeln jumped out to a 4-0 lead in the final matchup that would be cut in half before it was over, but never relinquished. Decuire won the fifth game, but Egeln won the sixth to reach the hill first. Decuire rallied to win the next two, but Egeln finished it at 6-3.