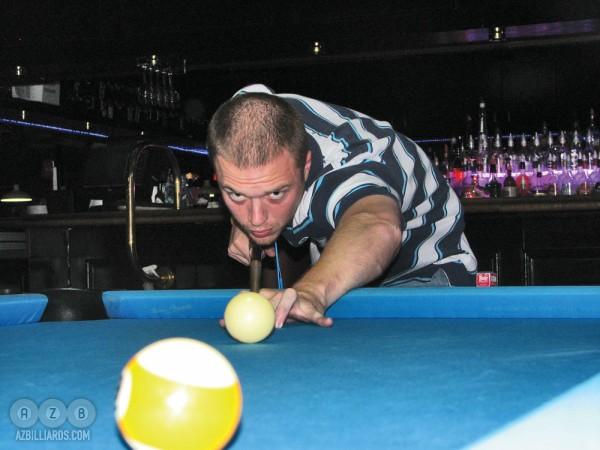 Bobby Emmons (Photo courtesy of Rick Schmitz)
Bobby Emmons won a battle of the young guns to notch his second Desert Classic Tour win of the year at Bullshooters in Phoenix.
The field of 39 players was full of top players including such notables as Gus Briseno, Chuck Evans, Nick De Leon, Terry Osborne, Dennis Orender, Mike Sandoval, Paul Grande and Pete Lhotka.
The four players to navigate Saturday play unbeaten were Emmons, Grande, De Leon and Lhotka.
Emmons beat Grande and De Leon defeated Lhotka to set up the hot-seat match.
The battle for the hot-seat was close all the way, but Emmons scored the hill-hill win to send De Leon to the left side of the brackets.
On the one loss side, Briseno and B player Jim Hendrickson were on a collision course with each other. Briseno eliminated Tres Kane 10-3 and then Pete Lhotka 10-7 (hill-hill).
At the same time, Hendickson eliminated Dennis Orender 7-6 and Grande 7-3.
This left Briseno and Hendrickson facing off for the right to play De Leon. It looked like the match was over when Briseno scratched on a 9-ball at 7-5 to let Hendrickson to the hill, but Briseno dug down to win the next three games for the 10-6 win.
Next up for Briseno was De Leon, and there would be no digging down and pulling out the win for Briseno this time. De Leon took complete control of this match early and didn't let
Briseno to the table with a clean shot at anything. At 5-0 De Leon, Briseno had seen enough and unscrewed his cue, giving the match to De Leon.
As impressive as De Leon's play had been in the match with Briseno, Emmons matched him shot for shot in the final match. The final match was tied at 1-1 and 2-2 before the first two rack lead was held by Emmons at 4-2. De Leon then tied things back up at 4-4. After that run, it was Emmons turn for a run and he won three straight games for the 7-4 lead. De Leon pulled back to 7-5, but Emmons put the match away in rack thirteen for the 8-5 win.
Even Emmons' tournament win was not enough for him to catch tour points leader Chuck Evans. Evans ends the season as the points leader with Briseno, Emmons, Scott Frost and Brett Hutch filling out the top five places.