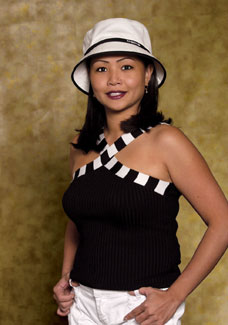 Ming Ng
The Ladies Spirit Tour is at Baron's Billiards in Bradenton, FL where the field of 32 players has been narrowed to twelve players who will return on Sunday.
Matches on the winners side will be Crystal McCormick vs Bonnie Coats and 'Empress' Ming Ng vs Niki Rasmussen.
Matches on the one-loss Sunday morning will be Stephanie Mitchell vs Tracie Hines, Ellen Van Buren vs Roberta Case, Deanna Laney vs Helene Caukin and Jessica Barnes vs Debbie Schjodt.
Schjodt was the last player to qualify for Sunday play with a great comeback over Keva Hevener. Hevener led the match 6-3 before Schjodt came back to win four straight games and take the set 7-6.
First place in this event will pay $750 and a qualifier for the WPBA Southeast Classic at the Hard Rock Casino in Hollywood, FL will go to the top player who hasn't already qualified for the event.
Photo courtesy of WPBA