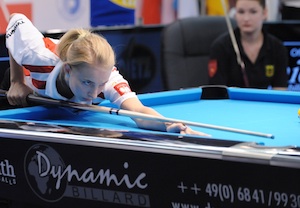 Oliwia Czuprynska (POL) Foto: EPBF/DK
Monday, 30 July 2012: Today, the 8-ball competition has started at the Dynamic Billiards European Youth Championships in Brandenburg a. d. Havel, Germany. All day will see 8-ball individual matches until 16:30 when the quarterfinals in 10-ball will commence.
In the girl's division, the current World 9-ball Champion Oliwia Czuprynska (POL) had to deal with Germany's Veronika Ivanovskaia. The match turned out to be one sided with Czuprynska winning 5:1 over Ivanovskaia.
It was Czuprynska's match from start to finish. She played solid and did not make many mistakes. However, one would have expected more from Ivanovskaia. She has also had some good and strong performances this week so the expectations in that match were quite high. But it turned out to be a one "girl" show… Czuprynska won the first racks and took a quick 2:0 lead. Ivanovskaia should have taken the 3rd rack to open her account for the match but she played a very bad position for the 8-ball. She had to try and bank the 8-ball into the side pocket but she failed. Czuprynska said "thank you" and won the rack, making the score 3:0 in a race to five. Ivanovskaia slowly struggled for air.But the Polish World Champion did not show any impression at all. She continued with her solid performance and went on the hill with 4:0. There, Ivanovskaia demonstrated that she is also capable to play at a high level. She won the rack. Was that the start of her comeback? Not at all. Czuprynska took the next rack as well and won the match with a strong performance with 5:1.
Other notable results from today's 8-ball competition include
Tobias Bongers
(GER) winning by a whisker over Vladislav Zaborovskii (RUS) with 7:6 in the junior's division. Newly crowned straight pool European Champion Finn Eschment (GER) handed a doughnut to Jeremy Berardi (LUX) and won with 7:0. Jose Alberto Delgado Hernandez (ESP) sent Jan Henrik Wolf (GER) to the loser's side with 7:3. In the winner's qualification round, Wojciech Szewczyk (POL) defeated Alvaro Blasco (ESP) in a heartbreaker with 7:6
Competition will continue with the quarter-finals, semi-finals and finals of the 10-ball.
The event is hosted by the European Governing Body for Pool, the European Pocket Billiard Federation (EPBF) and organized by International Billiard Promotion (IBP). For further information and reference please go to the federation website www.epconline.eu , follow us on twitter @EPBF_News or contact our press office.