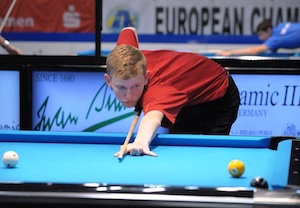 Andreas Madsen (DEN) Foto: EPBF/DK
Tuesday, 31 July 2012: On the feature table 24, Andreas Madsen (DEN) thrashed Vili Puumalainen (FIN) 5:2.
In the beginning, the quality of the match was improvable. Both competitors committed many mistakes and the racks were rather lost than won. However, since both players gave chances away, they both claimed their first points. At a score of 2:1 for Puumalainen, he was almost on his way to get a two-point lead. But he missed his final striped ball and allowed Madsen to the table. The Danish player chose a well-executed safety shot which opened the way for him to win the rack. That tied the match at 2:2. From then on, both players' performancesimproved. However, Puumalainen got more and more frustrated. He played well shots but picked the wrong ball several times which created avoidable problems for him. Madsen played smarter and used the chances that he was given by Puumalainen. Consequently, he took rack after rack off of his opponent. In the end, Puumalainen was not able to win one more rack. Madsen grew from his mistakes and won the match 6:2.
Other notable results from this morning are Nataliya Seroshtan (RUS) winning 5:1 over Marion Winkler (AUT). Daniel Tangudd (SWE) drove Kestutis Zadeikis (LIT) to his knees with 6:3. Bence Varga (HUN) eliminated Gerhard Schwab (AUT) from the event with a 7:4 victory.
The event is hosted by the European Governing Body for Pool, the European Pocket Billiard Federation (EPBF) and organized by International Billiard Promotion (IBP). For further information and reference please go to the federation website www.epconline.eu , follow us on twitter @EPBF_News or contact our press office.