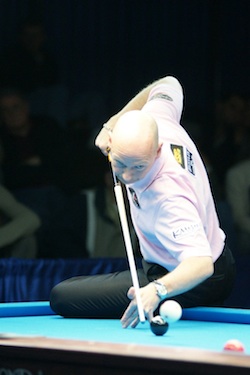 Ralf Souquet
"It was the best of times, it was the worst of times."

That was the story for Team USA on day two of the 2011 Mosconi Cup, as they won the first three matches out of the gate to tie the overall score at 4-4 but then dropped the last two matches to trail Team Europe 6-4 in the overall scoreboard.
No one missed a ball for the first four racks and the score was 2-2, but Rodney Morris scratched on the break in rack five and the entire match started spiraling out of control for the US pair.
The Euro team ran out that rack and then broke and ran the next for a 4-2 lead. Shane broke dry in the seventh rack and team Europe won the game after a beautiful safety from Chris Melling led to ball in hand for the Euro Team.
The eighth rack started out interesting as Ralf pushed out to a very makeable 1-ball for Shane Van Boening, but Van Boening missed the ball and left a wide open table for the team from Europe. Souquet and Melling pounced on the opportunity and cleared the table for the 6-2 win and a two point lead after two days of play.