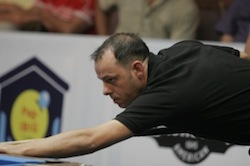 Appleton WIll be a Top Choice for Europe
Manila, Philippines- Can the European wave of wins be stopped? That will be the big question this week in Manila at The 11th Annual Predator International Championships produced by Dragon Promotions. The past two Predator Championships were both won by Filipinos (Orcullo, Reyes) but recently Europe has been dominating events in Asia and America. A world class ensemble of pro pool players will vie in singles combat September 14-18th, 2011 at the Robinson's Galleria next to the Crowne Plaza Hotel. Players from around the world will be fighting hard to win one of the longest running and prestigious titles in pool.

" I'm really looking forward to the Predator Championships. Unfortunately I was unable to play last year, but I believe this year we have a strong European line up so that gives us a good chance", says Darren Appleton of The United Kingdom, who is the current reigning US Open Champion. " I believe the Europeans are the guys to beat in tournament play, as we have pretty much dominated the last 3-4 years. Even my own game is in good shape recently, and I feel am due a big win after so many close finishes this year in the big tournaments so hopefully it's my time. Predator always put on great events with Dragon Promotions. And with it being 10Ball, it's definitely the players game. Nobody wants to miss out on the tournament, and it will be a world championships standard field. The ultimate winner will need to beat many champions along the way."

Predator world class players include US Open Champion Darren Appleton, Interpool Champ Raj Hundal, Poison Pro Classic Champion Charlie Williams, World 8-Ball Champ Dennis Orcullo, World 10-Ball Champion Jasmin Ouschan, Former World 9-Ball Champion Ronnie Alcano, Hall of Famer Ralf Souquet, China Open Champ Chris Melling, World 14.1 Champ Stephan Cohen, Asian Champ Lee Van Corteza, World 14.1 Bronze Medalist Max Eberle, European Champ David Alcaide, Former Predator Championship Winner Tony Drago, and Reigning Predator Champion Efren Reyes!


Women's World 10-Ball Champion Jasmin Ouschan was asked about her chances to win the event.

"Well I haven´t played that many men events in the past months so right now I am not thinking about winning the whole event other than focusing on my performance and one match at the time. After the event I am going to the Womens World 9-Ball Championship so I also want to use this event to get in shape, to find my game and rhythm."

Will the Europeans win?

" I believe the Europeans are very strong and they can always win events like that but in the end the only thing that matters is who brings the best performance."

Who is the hottest player now from Europe and the overall favourite of the event?

"I think Ralf Souquet and Thorsten Hohmann seem to be in a good shape right now since they won the last two big events, but the Philippines players are always dangerous as well. I think the Predator Championships stands for quality. All the players know how popular billiards is in the Philippines and it is always great to play tournaments in such a billiard loving country", ended Ouschan in the interview.

World 10-Ball Champion Huidji See predicts a possible Dutch victory....

"I feel confident in 10Ball and if I can get my break working for this tournament, I can do some real damage. I think my chances are as good as anybodys. The level here in the Phillipines will be very high, so everybody will be very tough to beat."

Huidji adds..

"Right now i would say Chris Melling is one of the hottest players in europe. But for my favorite pick of the tournament, I would say Ralph Souquet. Many players will want to play in this event, cause this is going to be one that everybody will want to win. All the big guns and names will be there and winning an event like this would be great! This title would make me proud to have on my resume!"

Many more Predator pros will be participating from Japan, Philippines, and all around Europe and Asia. Half the field are Predator technology users.

Players may still join the event. For Info and Registeration: e-mail predatorchampionships@gmail.com or call 1-407-782-4978
Pay entries and get info at : www.Dragonpromotions.com www.predator10ball.com
Crowne Plaza Hotel is connected to the tournament venue at Robinson's Galleria Mall. Crowne special tournament rates are available
Click to make reservation http://tinyurl.com/11th-PIC
CALL: 1 877-834-3613 GROUP CODE: YZZ Or contact directly to Crowne Plaza Hotel Ruby.Quiroz@ihg.com

Predator's premiere event is produced by Dragon Promotions and will take place September 15 - 18, 2011 at Robinson's Galleria Mall in Manila, Philippines. The event is co-sponsored by Asia Brewery Incorporated, Yalin Tables, Andy Cloth, Pool & Billiard Magazine, Colt 45 Beer, Aramith Balls, Robinson's Galleria, Magic 89.9 Radio, Philippines Star Newspaper, and TV network partners ABS-CBN and ESPN Star Sports. Over 30 countries are estimated to be represented at this year's event including Germany, India, Sweden, China, England, Japan, Vietnam, Korea, Taiwan, Philippines, Australia, Finland, Hong Kong, Norway, Mexico, Canada, Curacao, Venezuela, Spain, Portugal, Russia, Austria, Hungary, Netherlands, Italy, Malta, and the USA. World class pros from across the globe will fill the field.