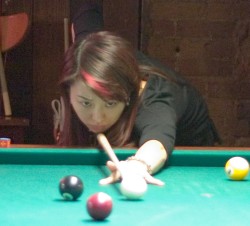 Xiaoting Pan
The Hunter Classics Amateur Women's Tour held its first stop of the year Jan 14-15, 2006. Does a stop at the beginning of the year hurt attendance? Not at all - an amazing 66 women came to compete at Legend's Billiards and Grill in Brenham, Texas!
There were many women who could have been in the finals, including Lisa Marr Brannen from Arkansas, Amanda Lampert from San Antonio, Texas, Anna Kostanian from Albuquerque, or Tara McCracken from Dallas, Texas, just to name a few. However, this time the finals would play host to regular member Leslie Anne Rogers from the Dallas-area versus newcomer Xiaoting Pan who came all the way from China.
On Sunday morning, the 66 women were dwindled down to only 16. On the winner's side, Helen Hayes won over Amanda Lampert 7-2; Anna Kostanian lost a hill-hill match against Xiaoting Pan; Shayla Neris defeated Monica Anderson 7-2; and Leslie Anne Rogers won hill-hill over Jennifer Kraber. This left Xiaoting Pan to defeat Helen Hayes and Leslie Anne to get by Shayla to set up the first meeting between Xiaoting Pan and Leslie Anne Rogers. At 6-6, Leslie Anne had two balls left and missed the 7-ball, but it stopped right behind the 9-ball. Xiaoting Pan pulled out her jump cue again and easily jumped cleanly over the 9-ball and made contact with the 7-ball, but did not pocket it. Leslie then made both the 7 and 9 for the 7-6 hot-seat win.
Lisa Marr Brannen was a terror on the one-loss side, defeating Amanda Lampert hill-hill, then Anna Kostanian 7-4, then Shayla Neris 7-2. Orietta was on her own winning streak on the one-loss side and was able to stop Lisa 7-6 to put her in 4th place. Orietta then lost her next match to Xiaoting Pan 7-5, handing Orietta a 3rd place finish. Pan, who can came from China to try and win some WPBA qualifiers, had large crowds watching her every move all weekend long. It was apparent after only a few matches that she was used to the attention; more noticeable, though, was her talent. She plays extremely well - mean safes, a hard break for such a little lady, along with jumping and kicking balls exceptionally well, and of course her shot selection and pocketing of balls was impressive.
Xiaoting Pan needed to defeat Leslie Anne Rogers two sets in this double elimination tournament to take home the first place prize of $750 and the WPBA Qualifier for the March WPBA event in Michigan. Xiaoting Pan took care of business and won both sets, 7-4 and 7-3. Pan will be at the Ladies Spirit Tour stop next weekend and she may come to the Hunter Classics tournament in March at Magoos in Tulsa, OK where the qualifier will be for the Pro 9-Ball Championships in Vegas in May!
A BIG thank you to Wes Hunter of Hunter Classics Custom Cues, Georgia and Ted of Legend's Billiards and Grill, Royce Bunnell of OB-1 Cue Shafts, and all the ladies and spectators who came to the tournament! The Hunter Classics Amateur Women's Tour will be in Austin, Texas February 18-19 at Fast Eddie's. Join them for the $2,250 added tournament. Visit http://www.hunterclassics.com for more information. See photos from this event here.