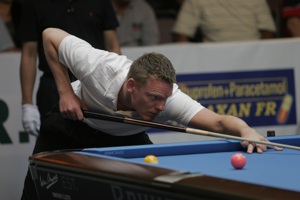 Niels Feijen
TWO-TIME PartyPoker.net Mosconi Cup winner Niels Feijen (Holland) has assumed the top spot in the 2011 European Mosconi Cup Rankings following his recent semi-final finish at the Euro Tour's Italian Open at Treviso. Looking to make his seventh appearance in the event this December in Las Vegas, Feijen was previously third in the ranking.

Italian Open Champion, Ralf Souquet, continued his outstanding run of form and he now moves from fifth into second spot with Darren Appleton, the 2010 Mosconi MVP, and previous No.1 Nick Van den Berg sharing third place.

At the conclusion of the 12 event programme, the top three players in the ranking will automatically qualify for the European side for the 18th annual PartyPoker.net Mosconi Cup, which takes place at the MGM Grand, Las Vegas from 8-11 December.

Big movers include Italian Open runner-up Jayson Shaw of Scotland who moves from 33rd position into the top 12. Another climber is former Mosconi Cup winning player/captain Oliver Ortmann who goes from 19th to 9th.

As if to emphasise the quality, nine of the current top ten players have played in the Mosconi Cup before with a collective 41 appearances between them.

The next qualifying event is the Beijing Open which takes place from 25th April to 1st May.

The European Mosconi Cup Ranking consists of 12 events – seven Euro Tour events and five 'World' events. The 'World' events will carry approximately 50% more points due to the international strength of the field.

Matchroom Sport's own PartyPoker.net World Pool Masters has recently been dropped from the roster due to the fact that for 2011 only, it is reverting back to a 16 player invitational event.

This has effectively been replaced by a new event on the Euro Tour – the Hungarian Open which takes place from 29th September to 1st October in Eger, Hungary.

Only players finishing in the last 32 of each event will be allocated points and at the conclusion, after the 2011 US Open, the top three players will automatically gain entry to the Mosconi Cup side.

The remaining two players will be Matchroom Sport wildcard picks although the ranking will play a part in this.