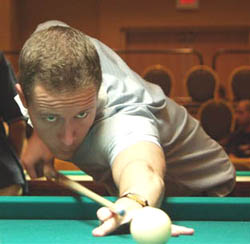 Mika Immonen is the last remaining non-Filipino in the event
Filipino cue artists led by the legendary Efren "Bata" Reyes and his bosom buddy Francisco "Django" Bustamante proved their class once again in the Cafe Puro sponsored 1st Philippine National Open and Invitational Championship at the Octagon Hall of Robinson"s Galeria Shopping Mall along busy Ortigas Avenue in Metro Manila.
Leonardo "Dodong" Andam, making a comeback after a few months layoff joined his countrymen in the semi finals with only 2001 World Pool Champion Mika Immonen who has made Manila his second home, breaking the Filipinos stranglehold on the $64,000 tournament where the winner pockets $20,000 and the runner-up $10,000.
Immonen who disposed of Chinese-Taipei's Young Ching Shun played superb pool in a 9-2 rout of Japanese star Satoshi Kawabata who had beaten giant killer Ramil Gallego in the round of sixteen. Gallego earlier shocked pool fans with a stunning 9-1 win over Earl Strickland in the opening round of the knockout stage involving 32 players, 16 of whom were seeded.
Kawabata showed a fine touch to tie the score at 2-2 before Immonen, capitalizing on the mistakes of the young Japanese lefty and playing excellent pool rattled off seven racks in a row to win 9-2. Immonen meets Bustamante in one of Saturday's semi finals which is expected to be a classic.
Bustamante had to go through a nerve-wracking battle with South Korea's 2002 Busan Asian Games gold medallist Jeong Young Hwa who shocked World Pool Champion Thorsten Hohmann 9-5 in the round of sixteen to set up the showdown with the Filipino ace.
Hwa raced to a 3-0 lead in the alternate break format and silenced the hometown crowd with his cool, calculating pool and although Bustamante clawed back to make it 3-2, the South Korean made some brilliant shots to ease in front by two racks 4-2. But Bustamante was not prepared to concede and when Hwa scratched on the break despite pocketing three balls in the eighth rack Bustamante pounced on the opening to even the score at 4-4.
A fantastic safety that rattled Hwa and another scratch on the break doomed the South Korean as Bustamante moved ahead 6-4. Bustamante, his awesome break now coming into play pocketed three balls and ran out the rack to move up 7-4. But just when it seemed the tide had turned dramatically in favor of Bustamante whose wife and son cheered him on from the sidelines, Hwa gamely fought back with some fine pool to make it 7-6 but scratched once again on the break enabling Bustamante to move ahead 8-6.
The South Korean who was having problems with his break played a brilliant shot to pocket the one-ball from a seemingly hopeless position and followed this up with a great bank shot on the three-ball to edge to within one at 8-7. Hwa blasted three balls on his break and ran out to join Bustamante on the hill at 8-8. While the crowd held its breath Bustamante broke and pocketed the 5-ball followed by a series of precise shots that saw him run out to win 9-8.
Andam, nicknamed "The Rattlesnake" showed he still has some sting left in his game when he beat another giant-killer Antonio Gabica who had ousted Alex Pagulayan, the Canada-based Filipino and runner-up at the World Pool Championship in Cardiff, 9-7.
Andam's positional game was exemplary and his touch immaculate. He will have to be at the top of his game against Reyes who last weekend won his third Japan Open 9-Ball title and is looking to win his first big tournament in Manila in recent years.
Reyes didn't have too much difficulty against Deuel. The 49 year old Filipino who was inducted into the "Hall of Fame" earlier this year, used a little bit of luck and a whole lot of magic to whip Deuel 9-4. The young American held his own against Reyes with a lucky shot helping even the count at 3-3 after Reyes demonstrated his incredible skill with a kick shot to pocket the 6-ball after Deuel played what he thought was a great safety.
Reyes, aided by a scratch on the break by Deuel in the eighth rack raced to a 5-3 lead and then broke and ran out to make it 6-3 before Deuel pulled one back with a break and run out of his own. But that was all he could do as Reyes, breaking much better than usual and reading the roll of the balls perfectly, rattled off the last three racks to eventually triumph 9-4.
The Café Puro sponsored event, one of the biggest international tournaments staged so far in Manila is being telecast "live" over the Global Network of broadcasting giant ABS-CBN which reaches the US, Middle-East, Europe and Asia and caters primarily to Filipino communities abroad who hailed the performance of their local heroes against world class competition and thanked renowned pool patron Aristeo "Putch" Puyat for his efforts in making it possible for Manila to host an event of such magnitude.
Report courtesy of Ronnie Nathanielsz, Photo courtesy of Diana Hoppe - Pool Pics by Hoppe