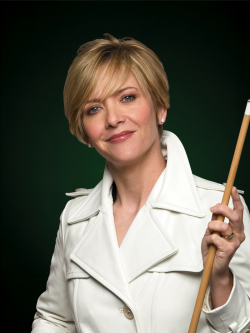 Allison Fisher
Allison Fisher, certainly one of the most remarkable cueists of all times, has been selected by the Women's Sports Foundation to be on the ballot for this year's Sportswoman of the Year competition. This is all the more remarkable in an Olympic year with so many fine athletes from which the foundation had to choose.

Award winners will be announced on October 14, 2008 and will be honored on that date at the annual Salute to Women in Sports Awards Dinner at the Waldorf-Astoria hotel in New York. According to the foundation website, Allison was chosen this year because:

"In August of 2007 Fisher won her third consecutive Women's Professional Billiard Association (WPBA) U.S. Open Championship, earning an unprecedented 50th WPBA title. Fisher came in second place at the WPBA Midwest Classic (October). In November of 2007 Fisher won her eighth WPBA National Championship in Lincoln City, Ore., solidifying her sixth consecutive Player of the Year award. Fisher started out 2008 on the same foot, winning the first WPBA event of the year, the San Diego Classic (April). She also placed third at the WPBA World 9-Ball Championship and won her second WPBA title of the year at the WPBA Great Lakes Classic times (June)."

In order to cast your vote simply click here . It only takes about 15 seconds to visit and cast your vote. Should you vote no later than midnight, September 2, you will be entered into a drawing to win one of five items autographed by your favorite sportswoman.