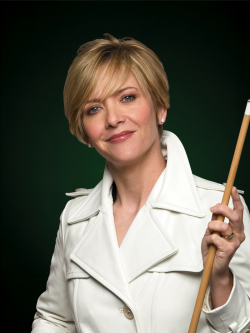 Allison Fisher
Whoever Allison Fisher faces in the finals of the Women's 9-Ball event at the Galveston Classic tonight (Tuesday, September 15; 9 p.m), it'll be their second meeting of the tournament, and pit Fisher against one or the other of her two toughest opponents, thus far. Fisher has advanced through five rounds of play to sit in the hot seat, where she's scheduled to meet either Yu Ram Cha or Line Kjorsvik, who'll square off in the semifinals of this event at 7 p.m.

Yu Ram Cha and Kjorsvik chalked up almost three times as many racks against Fisher than her other three opponents combined (11-3). In fact, they each matched or exceeded that amount, single-handedly. Fisher opened the match with a 9-1 win over Cristina Delagarza, as Yu Ram Cha was doing the same to Brooke Richmond-Demkey by the same score. Fisher had her hands full in that second round, but hung on to send Yu Ram Cha west 9-7. Fisher then went on to defeat Veronique Menard 9-2, Miyuki Sakaki 9-1, and gain the hot seat with a 9-4 win over Kjorsvik.

Kjorsvik's trail to the semifinals began with 9-4 victories over Angelina Paglia and Janet Ritchey. She struggled against Megan Smith but moved among the winners' side final four with a 9-7 win. She got into the hot seat match by sending Vivian Villareal west 9-6 and then followed her over on the heels of Fisher's 9-4 grab of the hot seat.

Yu Ram Cha's journey to the semifinals began on the one-loss side with the winner of July's Oklahoma State Championship, and winner, as well, of 6 out of 13 events she entered in 2008 - Iris Ranola. She got by Ranola 9-5 and faced another tough opponent in Gerda Hoffstater. She breezed through that matchup 9-1 and picked up Megan Smith, who'd just come over from her defeat at the hands of Kjorsvik. She dropped Smith into the tie for 9th place 9-4 and then ended Monica Webb's tournament bid 9-3. She moved into the quarterfinals against Villareal with a 9-4 win over Sakaki and then, the semifinals, with a 9-5 win over Villareal.

The Galveston City Classic is being broadcast live over the Internet, via UStream, with the Women's Semi-finals and Finals taking center stage, starting at 7 p.m.