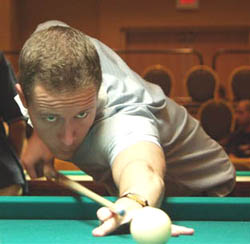 Mika Immonen
Day two matches are underway at the Seminole Florida Pro Tour stop at Capones in Springhill, Florida.
Matches on Sunday are now a race to 9 and both Capone's housepro Rodney Morris and Mika Immonen have already notched wins. Morris scored a 9-3 win over Ray Martin, while Immonen scored a 9-4 win over John Schmidt. At the time of this report, Charlie Williams was facing Shannon Daulton and Danny Harriman was taking on Joey Korsiak.
On the one-loss side, top names including Tommy Kennedy, Mike Davis, David Grossman, Earl Strickland and Troy Frank have already been eliminated. Tony Crosby and Jimmy Wale have already scored wins on Sunday morning over Joey Landi and 'The Tarantula' Pablo Matheu.
Brackets are online and have been updated with all of Saturday's results.