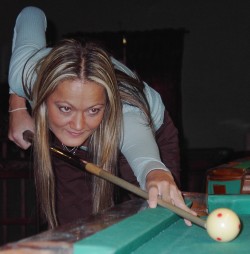 Debbie Schjodt
The Florida State Ladies Championship is underway at Capones Billiards in Spring Hill, Florida.

The field is a little smaller than expected, but there will be no shortage of top ladies pool this weekend with a field that includes Debbie Schjodt, Tracie Hines, Jeannie Seaver, Leslee Davis-Blaikie, Diana Minor, Stephanie Mitchell, Jessica Barnes and Niki Rasmussen.

First round matches are complete with Barnes and Lisa D'Atri taking early losses with them to the left side of the board.

Follow all of the matches with our online brackets.