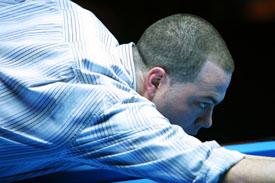 Scott Frost
Scott Frost proved his desire and tenacity twice on the weekend of December 7th - 9th and came out as the big winner at the last stop of the 2007 Olhausen Billiards Desert All Around Tour.

The festivities kicked off on Friday night with a four man invitational ring game. Frost joined points leader Mitch Ellerman, Mike Pankoff and Dennis Orender for a $250 entry winner take all 10-ball ring game.

Ellerman started out the early leader, but was soon shown up by Mike Pankoff who took the lead. Orender struggled trying to get anything going and was the first player eliminated. It looked like Frost would be the next player to be eliminated as he was forced to go "all in" with his last $30. Ellerman had the chance to eliminate Frost, but missed a 10-ball and Frost won the rack. The second life for Frost proved to light a fire under him and he came back with a vengeance. By the time Pankoff was eliminated, Frost held a $750-$250 lead over Ellerman.

The rules called for 3 more racks at $50 per rack and Frost won all three of those racks to force Ellerman all in for his last $100. Ellerman won the next rack to get back to $800-$200 and then won the next rack to gain new life at $600-$400, but it was Frost winning the next rack to claim the $1000 prize.

The main event got started on Saturday and the talk all day was of whether Ellerman would wrap up the points list win. Ellerman held a 150 point lead, but would still need a 7th place finish to guarantee first place on the points list. Ellerman appeared to think too much about how high he had to finish and not enough on individual matches as he lost to Dennis Orender and Tres Kane to end up in 9th place. This opened the door for Frost and the entire crowd on Sunday knew that a Frost win in the tournament would lead to a tie on the points list.

If Frost has had any weakness on tour during the yea, it has been occasional lapses of focus. With the knowledge that he could still win the All Around Title, there were no lapses in focus for Frost on Sunday. He made his way through Susan Williams and Randy Pelton to get his day started, and then eliminated Tres Kane in a close match.

Next up for Frost was Jimmy Mendoza, who had just lost to "The Mailman" Chuck Evans for the hot-seat. Mendoza has been away from the tournament scene for a few months with a new baby, but he showed the crowd he was still a force to be reckoned with all weekend. That force was still not enough to hold Frost back as he strung together multiple racks and sent Mendoza home in 3rd place.

This left Frost vs Evans for the tournament win in a race to 13 match. The match started out close, but Frost strung together four straight racks mid-match to take a lead that he would not give up. Frost cruised to 1st place and a tie for the All-Around Champion title.

Since the tour includes events in many different disciplines, a random drawing had to be held to determine what game Frost and Ellerman would play in order to name a winner of the title. The game drawn was big table 8-ball and the two players faced off in a race to 9 for the title.

Ellerman broke and ran the first 2 racks, but Frost quickly caught up and applied as much pressure as he could. Ellerman appeared to be the first to blink, as he missed a couple balls that looked makable. Frost took the lead and held on for the win and another payday.

Including the ring game, main event and tie breaker, Frost earned $3345 for the weekend as well as a brand new custom cue donated by Scott Whisler, a brand new BK2 break cue donated by Predator cues and $1000 in bonus money provided by Visual Impressions. Susan Williams was named the top female player on tour, and she was presented with a custom cue from Scott Whisler.

The big drawing on Saturday for the Olhausen Billiards Pool table was won by tournament regular and Arizona legend Rodney "Babe" Thompson.

The Olhausen Billiards Desert All Around Tour is sponsored by Olhausen Billiards ("The Best in Billiards"), as well as McDermott Handcrafted Cues, Visual Impressions, Aramith Billiard Balls, Tiger Products, Whisler Custom Cues, OnQ Cases, Tweeten Fibre, Joe Tucker, Billiards Press, Billiards Digest and Simonis Billiard Cloth.