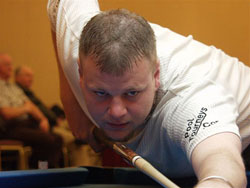 Gabe Owen will be just one of the pro players in attendance
Players in and around Texas, it is once again time for the Texas Open Nine Ball Championships.
The 34th running of this event, scheduled for August 31st - September 3rd will feature $4000 in added prize money and a separate open division and ladies division. All of the fun starts Friday the 31st at G-Cue Billiards in Round Rock, Texas.
The open division event will be race to 9 with a $125 entry fee limited to the first 128 paid players. The ladies division event will be race to 7 with a $75 entry fee. The top 32 players on the WPBA points list are not eligible to play in this event.
More information on this event is available online at www.texas9ball.com
Players already confirmed for this event include Corey Duel, Mike Davis, Gabe Owen, Rafael Martinez and David Gutierrez.