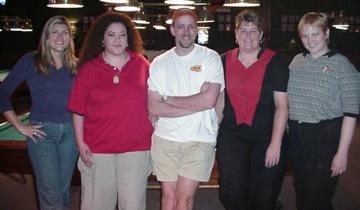 Deanna Kniola, Sophie Lopez, Kevin Welling (owner), Melanie Koger and Leslie Anne Rogers
Melanie Koger
defeated Leslie Rogers in the finals at G-Cue Billiards in Round Rock, Texas to win her first Hunter Classics Tournament of the year. While Leslie's runner-up finish made it the second time she has placed 2nd in a Hunter Classics Stop in 2001. Melanie and Leslie have been league teammates for years and it was two close friends in the finals, each wanting the win.
The runner-up finish for Leslie was not only another important finish but also helped move her to tie for first place in the points standings.
Gail Lave
is tied with Leslie by placing 5th/6th (after just playing in the WPBA event in Chicago hours before).
Brenda Plantz
placed 5th/6th as well and is only one point behind the first place tie. The next tournament in Alvin, TX (the Final Stop - the Tour Championship) in November will be the deciding tournament to see who becomes the Hunter Classics 2001 Tour Champion!
A BIG thank you to Wes Hunter who gives these wonderful ladies a great tournament to play in by donating a Hunter Classics Custom Cue each tournament.
Lucille Donahue
won the Hunter Classics Cue this time, after many years of buying raffle tickets. When Lucille was called about winning the cue, she wasn't home yet from traveling from the tournament, but her husband took down the message. However, she couldn't sleep until she knew it was really true that she won the cue. The cue, valued at $1,800, has Tulipwood forearm w/ 5 Ebony floating points and tulipwood butt, blue and card veneers with stitch rings and 5 ebony inlays on the butt.
Kevin Welling
was a great host over the weekend as the ladies played pool on his 17 9-foot Brunswick tables at G Cue Billiards, with the bartenders just as helpful and courteous. Thanks to the Hunter Classics Board who ran another smooth tournament and to
Tony Hinojosa
who kept play moving along as the Tournament Director.
36 ladies came to play pool over the October 13th weekend. Some flew in from the midwest and others drove from as far away as Denver to play. Friday night was showered with rain and thunderstorms but by Sunday clear skies were the norm as we were all indoors playing the sport we all love so much.
By Sunday morning the main event was getting kicked off with one-loss side matches pitting Colorado's Brenda Plantz against Austin's
Sharon Townsend
,
June Walter
from San Antonio against Austin's Heather Pulford,
Kim Pierce
from Bastrop, Tx against Gail Lave from Springfield, Missouri and Austin's
Lucy Robinson
against
Tara McCracken
from Lewisville, Tx. Tara would eventually play Gail and June would eventually play Brenda. While on the winner's side it was s an all 'Texas Shootout' with Leslie Rogers from the Dallas area playing Melanie Koger of Fort Worth, while Deanna Kniola from Austin was playing
Sophie Lopez
of San Antonio. After the Texas dust settled it would be Leslie Rogers playing Deanna Kniola for the winner's bracket with Sophie playing Gail and Melanie playing Brenda on the one-loss side.
Leslie Rogers' fight to the finals was played on the winner's side the whole tournament, only losing one match - in the finals against Melanie Koger. Leslie had a bye then defeated Vickie McKillop 7-2,
Michelle Cortez
7-4, Gail Lave 7-1, Melanie Koger 7-4, Deanna Kniola 7-3 and then lost to Melanie 5-11 in the finals.
Melanie's fight to the finals: bye, defeating
Julie Stephenson
7-1,
Mindy Williams
7-3 and Tara McCracken 7-3 before losing to Leslie Rogers 4-7. Melanie then fought through the one-loss side with wins over Brenda Plants 7-4, Sophie Lopez 7-4, a hill-hill thriller win over Deanna Kniola 9-8 and then defeating Leslie Rogers 11-5 to win the tournament.
The second chance tournament on Sunday, with $100 added and 18 women, was playing on the other side of the pool room.
Melinda Bailey
of Fort Worth came out on top over runner-up finisher
Jennifer Kraber
of Austin. Michelle Cortez of Austin placed third and
Audra Carter
of San Antonio placed 4th.
The ladies would like to take this time to thank Wes once again for his continued and dedicated support. Don't forget to visit us on the web at www.hunterclassics.com. Also, come see us at the final stop of the year, where we will find out who wins the Tour Champion and Most Improved Player at Alvin, TX November 10-11.