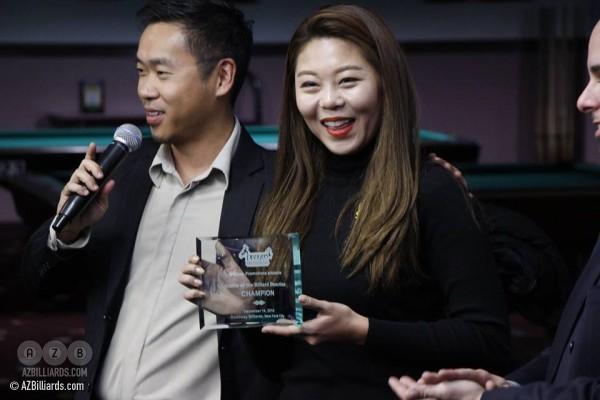 Ga Young Kim with Charlie Williams
Ga Young Kim proved why most experts consider her the greatest female pool player in the world as she put on a clinic against her lovely counterparts yesterday. The ANDY CLOTH Battle of the Billiard Beauties will be a TV network aired program that brought together Kim, #1 American
Jeanette Lee
, Guam's
Shanelle Loraine
& Japan's Akiko "Leopard Queen" KItayama. as they got it on in a pool beauty slugfest!! The ANDY CLOTH Battle of the Billiard Beauties took place at Steinway Billiards Cafe and sponsored by Andy Cloth, J.Pechauer Cues , Viking Cues, Steinway Billiards. , Olhausen Balls, Pool & Billiard Magazine , the NAPL & Focused Apparel . Patron sponsors include Dr. Greg Diehl,
Tom Gleich
, and Dr. Michael Frank. Media partners include PKE Partners, IB Sports, NYC Grind, Gotham City Technologies, Nona Photography, and
Charles Eames
Photography. 7 days of live pool will be filmed and streamed by Inside Pool TV. Pay per view on www.Dragonpromotions.com for $10 daily or $50 for the entire week for the upcoming Andy Cloth Women's International Pool Championship taking place December 16th-21st at the same venue.
The players would start off playing duel matches in 8-Ball and 9-Ball earning points for every game won and set one. The evening finale would be a ring game 10-Ball where the points would determine how much ante each lady had and how long they would last.
The first match saw Jeanette win 3-0 against Shanelle in 8-Ball and though Shanelle won the first game in 9-Ball, Lee came back with 3 in a row. Akiko came next and showed off her 8-Ball skills with 3-0 blank of Shanelle, but Shanelle bounced back and shut Akiko down 3-1 in the 9-Ball which equaled them both splitting the sets. Next Ga Young came out, and apparently jetlag proof as she scorched Akiko 3-0, 3-0 in 20 minutes. Then she looked liked she was going to blank out Shanelle but Loraine came back and made a huge runout including a tough backward cut of the 8-Ball into the side. Although she lost the set 3-1, the one game proved significant as it would be Kim's only blemish the entire day! Kim proceeded to win 3-0 in the 9-Ball. Next Jeanette defeated Akiko 3-1 and 3-0. This set up the finale duel between Kim and Lee, who coincidentally are the #1 and #2 seed in this week's Andy Cloth Women's International Pool Championship . The final duel match proved to be anti-climatic as Kim broke and ran the first 2 racks of 8-Ball leading to a 3-0 shutout and then a 3-0 shutout in 9-Ball. Kim was on fire running out shooting balls in an average 4 seconds per shot!
A special bank pool match was held with Lee and Kim, and this proved much more closer as Kim and Lee traded games and some great banking. KIm still scored a 3-1 win in the exhibition match.
In the final 10-Ball ringgame, Kim came in with the most chips at 3000, Lee had 2000, Shanelle at 700, and Akiko at 600.
AKiko was eliminated in the 5th game, and Shanelle won a nice 900 chip game but followed next out the door in the 7th game. Jeanette and Kim traded games back and forth but Kim's lead was too great and put Lee in sudden death mode 3 times. Finally Kim ended the match and the event with a runout to be crowned the Queen of the Billiard Beauties!
Dragon Promotions & Synergy International are event organizing and marketing companies respectively. Dragon Promotions is one of the leading producers of billiards and sports programming in the world today covering billiards, tennis, football, golf, MMA, charity events and more. In a span of 14 years, Dragon Promotions has produced over 300 international events airing on TV networks globally from the USA, China, Philippines, South Korea, Canada, the Middle East, all of Asia, and Europe. Events include The World Tournament of 14.1, KIA Motors Football Korea vs Philippines, The Women's International Pool Championship , Dragon MMA Combat Night, The African American TennisTournament, The Queens Cup, The Orlando Summer Tennis Open, The International 10-Ball Championship, King & Queen of Carom, The Typhoon Haiyan Tennis Tournament, Pro Pool Schools, Women's Trickshot Challenge, World Junior 10-Ball Championships, The World Mixed Doubles, the Vietnamese Tennis Open and many more. Visit www.dragonpromotions.com .