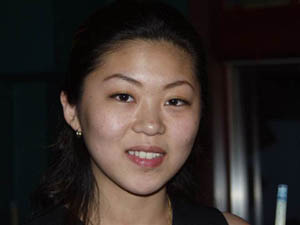 Ga-Young Kim
With a dominating win in the finals, Ga-Young Kim has won the 2005 Ladies Challenge of Champions at The Mohegan Sun Casino in Uncasville, CT.
Kim started the event with a sudden death win over Karen Corr. Corr seemed unable to catch a break at the table and Kim took the first set with ease by the score of 5-1. Corr was still not getting many rolls in the second set but did manage a 5-3 win to force one sudden death game. Kim won the lag and controlled the game to earn the victory.
The second match of the day was between Allison Fisher and Julie Kelly. This match turned out to be a carbon copy of the first match with Kelly winning the first set 5-1 and dropping the second set to Fisher 5-3. Kelly won the lag in the sudden death tie breaker and proceeded to break and run for the victory.
With back-to-back sudden death tie breakers, the final set turned out to be fairly anti-climactic with Kim racing to a 5-1 win in the first set and a 5-0 win in the second to earn her first Challenge of Champions title and the $25,000 first prize.