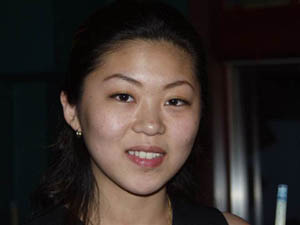 Ga Young Kim
Ga-Young Kim has defeated Karen Corr 7-5 in the finals of the 2009 WPBA US Open.

Kim survived a hill-hill scare against Jennifer Barretta in the second round of this event and never looked back. A win over Kim Shaw moved Kim into the single elimination redraw and a 9-6 win over Jasmin Ouschan earned Kim a spot in the extended TV rounds.

Kim's first TV match was against Helena Thornfeldt, and although Kim raced to an early 3-1 lead, Thornfeldt came back to tie the match at 3-3 before Kim regained control and won 7-4.

Next up for Kim was Gerda Hofstatter and again, Kim raced out to a 3-1 lead and was forced to watch her opponent come back to tie the match at 3-3. From there, Kim took control of the match and won four of the next five games for a 7-4 win and her second spot in the finals of a Classic Tour event this year.

Kim's opponent in the finals, Karen Corr, was also on an undefeated run in this event with notable wins over Tracie Hines, Vivian Villarreal and Allison Fisher.

In the finals, Kim raced out to a 4-1 lead and watched as Corr tied the match at 5-5. A miscue by Corr in game eleven led to Kim on the hill at 6-5 and a poor safety in game twelve was the end of the match as Kim ran out for the 7-5 win and her first WPBA title in 2 years.

With the win, Kim will also move into the #1 position on the WPBA points list, while Corr will move into the second position.