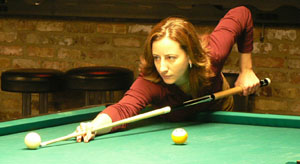 Julia Gabriel
January 21st & 22nd Pockets Billiards, Crestwood, IL. Hosted stop # 5 of the Jacoby Cues Great Lakes Tour 05-06 season. Owners Carlo Cesare and Pat Bukiri along with their great staff made all who attended feel right at home. Take my advice; if you find yourself within driving distance make your way to this room. It's great in every aspect of an upscale billiard room with the best equipment and friendly staff.
The tournament would see players from IL, MI, WI, and MO brave the winter storm warning to play for the WPBA Qualifier and a share of the $500.00 added prize fund. Saturday play saw Julia Gabriel of St Charles, MO post victories over Cheryl Morrell 7-5; Christy Dickerson 7-5; and CJ Jerome 7-4; before being derailed in the winner side final by a hot shooting Amy Latzko of Oak Forest, IL by a score of 7-3. Latzko earned her way to the hot seat match with wins over Kathleen Moon 7-0; Becky Todd 7-5; and Tina Larsen 7-4. Gabriel would then defeat CJ Jerome in the semi-final match to set up the rematch with Latzko for first place and the qualifier. In the finals, a single race to 9, the two would exchange games early before Gabriel gained control and went on to win by a score of 9-4 to take the qualifier and secure her second win of the season.
The tours next stop will be February 11th & 12th at Rack Attack Billiards Caf? in Port Clinton, OH. The tour staff would like to thank Pockets owners, Pat Bukiri and Carlo Cesare and highly recommend this warm and friendly establishment.
And as always, many thanks to our sponsors:
Jacoby Custom Cues, Midwest Amusements, Championship Cloth, BeBob Publishing
Media sponsors include:
Inside English Magazine, azbilliards.com, Billiards Digest, National Billiard News, Professor Q Ball, Inside Pool, Pool and Billiard Magazine
Complete Results:
1st Julia Gabriel $400.00 + Qualifier
2nd Amy Latzko $275.00
3rd CJ Jerome $175.00
4th Tina Larsen $110.00
5th/6th Julie Melman, Cheryl Morrell $50.00