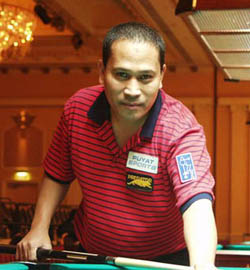 Ramil Gallego
Ramil "Bebeng" Gallego has given the Philippines another scintillating triumph in pool by edging countryman Antonio "Nikoy" Lining in a thrilling All-Filipino final at the prestigious Japan 9-Ball Open in Tokyo to continue the Filipinos sweep of major regional events in recent weeks.
Last weekend Francisco "Django" Bustamante scored a pulsating 11-10 victory over 2001 World Pool Champion Mika Immonen in the A Mild International Open in the picturesque resort city of Bali, Indonesia one week after Efren "Bata" Reyes won the Jakarta leg of the San Miguel Asian 9-Ball Tour. Reyes had had earlier won the highly competitive Japan Open. With Gandy Valle scoring a stunning win in the first leg of the San Miguel Tour in Singapore, the Filipino cue wizards have dominated the Asian scene, overcoming a stiff challenge from the pool masters of Taiwan.
Businessman-sportsman Aristeo "Putch" Puyat expressed elation over the latest triumph of a Filipino pool player saying "it goes to show that the Filipinos are truly the best in our region when it comes to billiards" even as he lauded the players for their simplicity, humility and overall demeanor which has endeared them to opponents and fans alike around the world. The president of the Philippine Billiards and Snooker Congress Ernesto Fajardo said "we are on the right track in our bid to make good in the Southeast Asian Games" which the country will host in late November. Fajardo said the successes achieved in recent weeks are "the result of our continued effort to give exposure to our players."
Gallego and Lining who always fare well in the Japanese circuit gave pool fans a treat in a cliffhanger of a final. Gallego had earlier played solid pool to oust Japanese ace and hometown favorite Sashi Yamamoto in the semi finals 9-7. Yamamoto booked a place in the final four with an exciting 9-7 victory over rising star Dennis Orcullo. Lining, on the other hand, scored a comfortable 9-5 win over another Japanese Hisashi Kusaco to ensure an All-Filipino final.
Gallego earned the equivalent of some $7,000 while Lining pocketed the second prize of around $3,500.
Meantime, veteran Santos Sambajon has won the Joss NE Tour stop in Providence, Rhode Island beating Mike Davis in the finals. The little Filipino who plays out of California beat Davis in the race for the hot seat 9-6 but Davis gained a chance for revenge by coming through on the losers side. Santos looked a little tired and lost the first showdown with Davis who raced to a 6-2 lead and eventually won 9-5 in the first set of the finals. But Sambajon responded with a quick 5-1 lead in the deciding set and went on to win 9-5 and pocketed the top prize of $3,000.