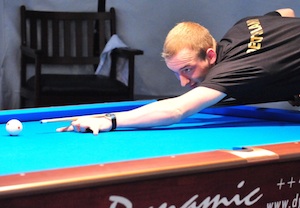 Lars Kuckherm
Wednesday, 03 August 2011: The team event has indulged the audience at the EPBF Dynamic European Youth Championships today with exciting matches. The format of the team event is, that each team plays with three players. One match consists of one game in straight pool, one in 8-ball and one in 9-ball. Whoever wins at least two matches won the team encounter.

In the juniors division, team Germany battled it out with team Poland. Team Germany consisted of Manuel Ederer (straight pool), Christian Schmidt (9-Ball) and Lars Kuckherm (8-ball). Their opponents, the young lads from Poland were Konrad Piekarski (straight pool), Marek Kudlik (9-ball) and Wojciech Szewczyk (8-ball). In the beginning, things looked very promising for the Polish team. Piekarski was leading 41:-1 over Ederer, Kudlik was trailing 2:3 against Schmidt and Szewczyk was leading 5:1 over Kuckherm. The German team was in big trouble... But then the tide turned in favour of the Germans and the match was becoming closer. Christian Schmidt defeated Kudlik 8:6 while Kuckherm lost an unlucky match to Szewczyk with 4:7. Straight pool had to deliver the decision. Ederer was playing great and closed the gap to Piekarski, almost tying the match at 40:43 in favour of the Polish. Then Ederer made 26 balls and took a 66:45 lead. Piekarski hit back at Ederer, shooting 20 balls to get to a score of 65:66. Then he made a mistake and Ederer got to the table. The German talent made 34 balls and won the match 100:65 which at the same time meant the victory for team Germany over Team Poland. The Polish team will have another chance on the loser's side.

In the other winner's qualification match, team Netherlands defeated team Slovakia with 2:1. Ivar Saris won the 8-ball with 7:4 over Robert Latika. Marc Bijsterbosch killed Balasz Koles in 9-ball with 8:0. The straight pool match between Ivo Aarts and Jakub Koniar was stopped when Koniar was leading 76:59. The match result is 2:1 for the Netherlands.

In the pupils division, team Poland won 2:1 over team Netherlands and team Germany won 2:1 over team Russia. The most remarkable result here was the triumph from Nino Andreuzzi over 10-ball European Champion Vitaly Pavlukhin with 7:4. That encounter was the key for the German team's success.

The team competition will continue on Friday. Tomorrow, the Dynamic European Youth Championships commence with 9-ball until 17:00 local time. Then, the 8-ball competition will be brought to an end.

The European Championships are hosted by the European Governing Body for Pool, the European Pocket Billiard Federation (EPBF) and organized by International Billiard Promotion (IBP). For further information and reference please go to the federation website www.epbf.com , follow us on twitter @EPBF_News or contact our press office.