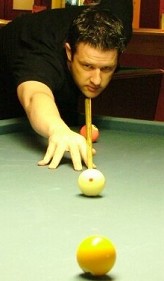 Mark Gray
Mark Gray is well on the way to dropping his 'ex-snooker pro' tag after he added the BPPPA Redhill Open title to his quickly growing list of honours in the sport of pool. Gray met 'The Hitman' Raj Hundal in the race to eleven final and when trailing 4 - 1 after the first five racks, an impressive eight racks without reply saw Gray to a commanding 9 - 4 lead and an eventual 11 - 7 triumph. The win secured Gray the title, the trophy, the 700 ranking points and the not-so-small matter of over £1000 in prize money.
Gray's path to the final was an impressive one. The first day's play saw him qualify for the last 32 knockout stage with victories over Bernard Ross, Euro Tour ranked number 42 Gareth Esprit and Steve Turnbull, winning 7 - 1, 9 - 6 and 9 - 1 respectively. It was one-way traffic once Gray entered the last 32 as he overcame 17 year old BPPPA Junior Midlands Champion, Matthew Andrews, 9 racks to 1. A 9 - 4 win over Gary Stewart, making his first appearance in the last 16 this year, meant Gray faced the talented Jay Trivedi, number 4 on the BPPPA rankings going into this event, for a place in the semi-finals. The opening four racks were shared but Gray turned up the heat to run out a convincing 9 - 5 winner. The classy and experienced Dutchman Rico Diks came into the semis off the back of a memorable win over runaway BPPPA number 1 Daryl Peach. Diks fought back from a 4 - 0 deficit to win 9 - 6, the winning rack including a contortionist act from Diks as he performed a painful looking 'foot-in-the-pocket' jump shot. The 9 - 3 score line in the Gray v Diks semi would have been a surprise to anyone who didn't watch the match; those who did however witnessed a comprehensive display of potting and positional play from the Englishman, including Gray running the match out from 6 - 3 in front.
Like Gray, the first day of the event taxed Hundal of little energy, breezing past Mike Rogers and Simon Widlo to qualify for the Sunday knockout phase. Sunday arrived and Hundal's opponents departed, Adam Sharman 9 - 6, was followed by Ian West 9 - 3. Hundal's quarter final opponent looked a tricky one. Allen Lowe is improving fast, having taken the scalps of two big names to get to the quarter final stage, namely Kevin Hew, who graced the World Championships last year, and the ultra-consistent Paul Medati; Lowe should be warmed up enough to give Hundal a fight. Through no fault of his own though, the only thing Lowe could warm up was the leather on his seat, 'The Hitman' was a man on a mission and had the required amount of 9-balls in the pockets before Lowe could say, "Good luck Raj". To make the final Hundal had to beat Imran 'The Maharaja' Majid and to add an extra edge (as if it needed it!), if Hundal won he would guarantee himself a shot at this summer's World Championships in Taiwan. With Majid leading 8 - 6 it looked unlikely but Hundal's fighting side came out to draw level at 8 apiece. Majid scratched after potting the 1-ball and Hundal cleared faultlessly to win.
The event was played over two days, Saturday 14th & Sunday 15th May at the excellently run, spacious and newly refurbished Riley's club in Redhill and it proved a great venue for tournament play. The club's layout was ideal for spectators and one match in particular drew quite a crowd, Daryl 'The Dazzler' Peach versus 'Darkside' Gareth Esprit in the last 16. High-tempered it was, high tempo in wasn't, with disputes over time-outs and eventually the shot clock, it proved enthralling. Peach came from behind to win the match. Sid Waddell would have commented that 'The Dazzler' stayed 'cooler than a cucumber waiting at an Alaskan bus stop'. Joining Peach and Esprit in the last 16 and not mentioned were Andy Worthington, Adam Clarke, Anthony Ginn, Steve Higton and Martinho Correia, all of whom wouldn't be out of place in the final.
Last 32 qualifiers also not mentioned were Robert Jude, Damian Massey, Andy Jeronimidis, Jonathan Mathers, Nigel Webb, Paul Williams, Mark Stephenson, David Walsh, Ahmad Miraghai, Dean Mazirel, Matt Potter and Jonni Fulcher.
After his victory Mark Gray said, "It's unbelievable, out of the five BPPPA events I've played in, I've won three (Redhill Open, Basildon Open, St Albans 8 ball Open) and had a runner up and last 16 placing (Doncaster Open and Harrow Open respectively). To beat names such as Raj Hundal, Rico Diks, Anthony Ginn and Jay Trivedi within my first five tour stops is better than I could've ever imagined." For a man, who by his own admission, is still learning the sport of 9 Ball, Mark Gray made a flawless impersonation of teacher in Redhill.