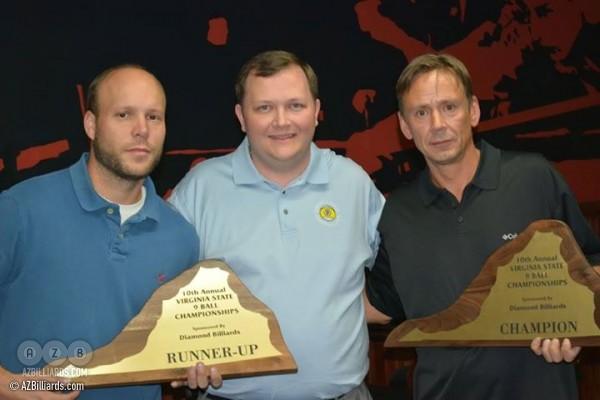 Eric Moore, Joshua Dickerson (TD) and Danny Green
Though
Eric Moore
would come back from winning five on the loss side to face him in the finals,
Danny Green
hung on to go undefeated and win the 10th Annual VA State 9-Ball Championships on the weekend of September 14-15. In addition to prize money, both Green and Moore received free entry to the US Open 9-Ball Championships next month, as did top female finisher, Daisy Blancaflora. The event drew 68 entrants to Diamond Billiards in Midlothian, VA.
Having sent Moore to the loss side 9-7 in the fifth round of play, Green moved into a winners' side semifinal against
R.J. Carmona
.
Brandon Shuff
, in the meantime, took on Ray Mart-Lim. Green and Shuff faced each other in the hot seat match with identical 9-4 wins over Carmona and Lim. Green and Shuff locked up in a double hill fight that eventually sent Shuff to the semifinals against Moore.
Moore and Lim moved into the quarterfinals with 9-7 wins over Sykes and Hunt, and then battled each other to double hill before Moore advanced. Moore then took out Brandon Shuff 9-7 in the semifinals for a second shot against Green. Green took the final match 11-7 and the 10th Annual VA State 9-Ball Championship crown.