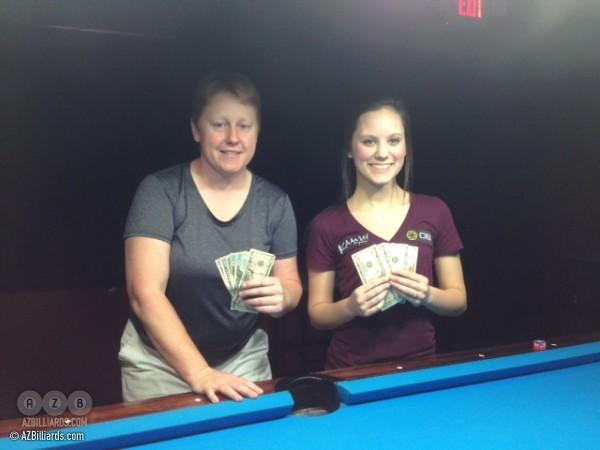 Cathy Tschumper and Taylor Hansen
The numbers may have been few, but they came from far and wide to compete in the second stop on the North Star Ladies Pool Tour (NSLPT), a $130-added event, hosted by CR's Sports Bar in Coon Rapids, MN on Saturday, May 2. Drawing 13 competitors from Minnesota, Illinois, Wisconsin and Indiana, this second stop on the tour was won for the second straight time by 16-year-old Taylor Hansen, who, along with 15-year-old, fourth place finisher
April Larson
have recently been announced as members of the Atlantic Cup Challenge 2015, scheduled for July in Austria.
Hansen, who would give up only two racks in her final three matches, got by Cathy Tschumper twice to claim the title. They met first in the hot seat match, once Hansen had sent Mary Ulmer to the loss side, 7-1 and Tschumper had survived a double hill match versus
June Maiers
. Hansen shut Tschumper out to claim the hot seat.
Moving over, Ulmer ran into Larson, who'd squeaked by Connie O'Heron 7-6 and defeated Molly Nistler 7-3 to reach her. Maiers picked up
Beth Fondell
, who'd gotten by
Cathy McDaniel
7-5 and Brandy Eklof 7-1. Larson advanced to the quarterfinals 7-4 over Ulmer, as Maiers moved to join her with a 7-3 win over Fondell.
Maiers and Larson came within a game of double hill in those quarterfinals, but Maiers edged out in front and took it 7-5 for a shot against Tschumper in the semifinals. A double hill battle there sent Tschumper back for a second chance against Hansen.
Hansen eased up a bit in the finals. She allowed Tschumper a rack before closing out her second undefeated run on the NSLPT.