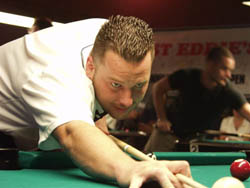 Dennis Hatch
Dennis Hatch has won the Viking Cue Tour National Championship at The Pool Room in Duluth, Ga.
Hatch was undefeated until the hot-seat match where he lost to Stevie Moore, but a quick 11-6 win over Stoney Stone on the one loss side earned Hatch another shot at Moore in the finals.
Hatch won the first set of the true double elimination finals 11-8 and won the second set 11-9. Hatch did give Moore multiple chances, especially due to miscues on Hatch's part, but Moore never seemed to be able to capitalize and gain control of the match.
Hatch earned $5000 for first place, while Moore settled for $3500 in second place prize money. Stoney Stone and Johnny Archer filled out the top four places.
Complete Results:
1st Dennis Hatch $5000
2nd Stevie Moore $3500
3rd Stoney Stone $2500
4th Johnny Archer $2000
5th/6th Sparky Ferrell, Chris Bartram $1500
7th/8th Jesse Middlebrooks, Keith Bennett $1000
9th/12th Justin Hall, Shannon Daulton, Will Bilbrey, David Brosxon $575
13th/16th Jim Jennings, Donnie Mills, Larry Nevel, Jerry Slivka $375
17th/24th Anthony Morgan, John Schmidt, Corey Deuel, Cliff Joyner, Justin Pope, Earl Strickland, Tony Watson, Tom D'Alfonso $250
25th/32nd Shane Van Boening, Richard Broumpton, Liel Gay Jr., Horace Godwin, Tony Crosby, Jason Klatt, Sarah Rousey, Ike Runnels $150