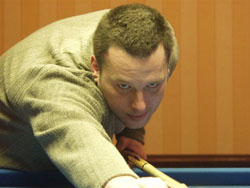 Dennis Hatch
Dennis Hatch returned to the Joss NE 9-Ball Tour and picked up right where he left off.

Hatch joined 42 other players at Diamond Eight Billiards in Latham, NY and made his way through the winner's side untouched. His 9-7 win over Justin Hall for the hot-seat was the closest an opponent got to him in 2 days.

Hall took his detour to the one loss side and dispatched Dave Grau 9-6 to earn another shot at Hatch.

Unfortunately for Hall, Hatch was not settling for second on this day. Thirteen games was all it took as Hatch quickly ended the day with a 9-4 win and his fifth win of the season. Hatch is not a perfect 5 for 5 in Joss events, as he has won every event he played in this season.

Hatch earned $1440 for first, while Hall settled for $1000 in second place prize money.

The Joss NE 9-Ball Tour now takes a break until the Turning Stone Classic XII on February 19 - 22 at the Turning Stone Casino in Verona, NY.