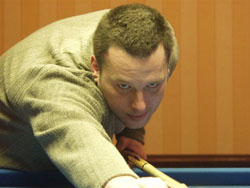 Dennis Hatch
Dennis Hatch might have fallen a little short in his first match against Donnie Mills at the Seminole Florida Pro Tour stop this weekend, but he had more than enough when it counted at the end.
Hatch was undefeated going into Sunday play and looked untouchable early with an 8-3 win over Neil Fujiwara and then an 8-1 win over Corey Deuel. Hatch ran into an obstacle in his quest for the hot-seat though, as he lost a decision to Donnie Mills. Mills already had wins over Marlon Manalo and Stevie Moore going into the match against Hatch, and took the match with Hatch 8-5.
On the one loss side was where Hatch really turned it on. He broke and ran five straight racks against Marlon Manalo on his way to an 8-1 win and another match with Mills in the finals. In the finals, Hatch repeated the five straight rack run and defeated Mills 9-4 for the tournament win.
Hatch took home $2700 for first place, while Mills settled for $1800.
File photo courtesy of Diana Hoppe - Pool Pics by Hoppe